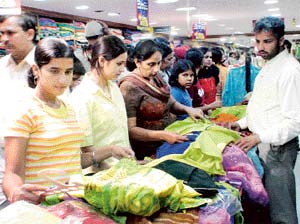 Some of the buyers are those who shop the year round, but do so with extra verve around Divali, while others plan their purchases to coincide with this time so as to take advantage of the tempting purchase schemes floated by sellers and manufactures. Then, of course, the fact that everyone seems to be buying something adds pressure on one to join the bandwagon. "Around Divali I often end up buying things that I donít really need because everyone I know seems to be buying something or the other and I donít want to feel left out," feels Rachna Bhargav, a schoolteacher.
It is boom time for everyone, the habitual shoppers and the impulsive buyers, those on the shop floors and those behind the counters, those who spend without a care and those who scrimp and save for Divali. Such is the deluge of shoppers that marketplaces that seemed empty and spacious just a few weeks ago now look as if they could do with a few extra acres. Just standing in any shopping plaza gives one the feeling of the rush, excitement and festivity in the air. And no oneís complaining. "I love buying new things for the whole family at this time of the year. Thereís nothing like festivals to attract shoppers to the markets," smiles Manpreet, a designer and avid shopper. And shopkeepers are all smiles too. "Our sales double around Divali," says a beaming manager of a popular cloth store.
To a casual bystander the only phrase that comes to mind to aptly describe the shopping craze is sheer madness. Even the sellers appear to have been caught unawares. "At times so many customers come in that we cannot handle the deliveries. We tell them to collect their purchases after a couple of days," says Gautam Mehra, the manager of a major department store. "People are spending so much these days that it is difficult to believe that ours is a poor country," remarks a bank official.
Although it might seem as if the shopping mania is confined to bigger towns, but that is not strictly true. What is true of the big towns is as true of the smaller ones. Any product or scheme that is well received in Chandigarh, gets as warm a reception, if not a better one, in, say, Ludhiana or Amritsar. "We have people coming from Ludhiana, Jalandhar, Patiala and Yamunanagar to make purchases at our store," says Rakesh Mohunta, the manager of an upmarket store that sells crystal and watches that start at a few thousand rupees and go up to more than Rs 1 lakh. "We have a very good response to even our higher-end wares, and it is not just the upper but also the middle class that is buying," he clarifies. It is almost as if the middle class has suddenly discovered its purchasing power and is not shy to sport all the symbols that say loud and clear that it has arrived.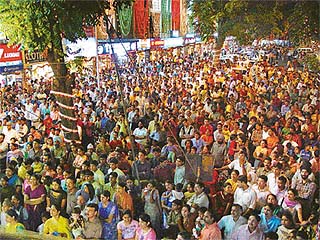 No political rally this. Itís a shopping mela ó Photo by Pankaj Sharma
Itís the classic win-win situation. Customers have more money than ever before, and, what is more important, they have the will to spend. They are buying like there is no tomorrow, and the sellers are happy to oblige with all kinds of discount schemes, exchange offers, credit plans and free gifts. It works out wonderfully to the advantage of both. The sellers make unprecedented sales, while the buyers can finally go home with all the goodies that they have been eyeing for months.
The shopping mania is year-round phenomenon but begins after the sharadhas during the months of October and November. Most businesses see a sharp increase in volumes, in some cases there is as much as a hundred per cent rise. "While we otherwise get around 50-100 walk-ins in a day, during the festival and marriage season the number increases to between 300 and 400," maintains the owner of a jewellery store in Sector 22. "Last month we sold 15 projection TVs, which are priced between Rs 1.45 lakh and Rs 2.25 lakh. We expect sale of various electronic items to exceed Rs 1 crore in October-November," volunteers Randeep Singh, the manager of a Sony showroom.
While the shopping binges that people embark upon at this time of the year are not really any thing new since purchases around Divali time have traditionally been considered auspicious, what is noteworthy is the mind-boggling excess of it all. One family recently bought a TV, a refrigerator and a double bed, among other things, at a cost of Rs 1 lakh, even though they already possessed all these items. It is now no longer enough to have regular 21-inch-TVs, flat screens in 29 inches and beyond, are a must-have, people with small music systems want to upgrade to higher-end ones and those who own medium-size refrigerators go in for bigger models for no apparent reason except that these are available in the market. "Our exchange schemes always get a good response. Tell me, why should anyone want to exchange a refrigerator that is in perfect working condition for a bigger model except to fulfil the aspiration to have a big refrigerator?" asks Rajiv Gakhar, the owner of a showroom of electronic goods.
What is also exceptional is the change in the buyersí mindsets. Unlike even a couple of years ago, people no longer think twice about spending lavishly. "We recently bought a music system and a 29-inch flat screen TV, both bigger than the ones we had. We are now looking for a trolley to keep the TV. We had planned to keep it in the bedroom but since it is so big, we will have to keep it in another room and now my husband wants to buy a comfortable sofa to watch TV in that room," says Neelu, a housewife.
As the traditionally cautious middle class replaces its time-honoured credo of saving for a rainy day with its resolve to live it up today, markets are abuzz with activity. "Saving is alright within limits, but I feel it is more important to enjoy life. If one has the desire to acquire something, there is no reason why one shouldnít do it," opines Manpreet. "I love to buy new things for the house even if my husband and I have arguments about it," she adds. And it is precisely this unabashed self-indulgence that marks the most important shift in consumer mindsets. People are not reticent about spending on themselves, to fulfil what at times is nothing more than a whim. "I saw a flat-screen TV at a friendís place and since then have wanted to buy one too. I finally bought it last month, even though my wife felt we didnít really need it since the TV we have is in working condition" says Aman Beri, a bank executive.
Aspirations, and not need, guides purchase decisions, and these aspirations are suddenly within reach. There was a time when a prospective customer would only gaze longingly at goodies in shop windows. But today consumer-friendly credit terms, ranging from low-interest loans offered by banks to even zero per cent instalment schemes offered by manufacturers, have made shopping easy. Everything from cars and home theatre systems to sofas and beds are available on credit. "Yes, definitely, credit helps. With credit I can even buy expensive stuff without worrying about blocking my money," says Amanpreet, an avid shopper. "Such tempting credit offers are difficult to resist, and more often than not you end up buying things because credit makes them so affordable" feels Manpreet.
Credit is not an anathema any more. The previous generation saw credit as the last resort, something to be avoided as long as possible because it meant falling into the dreaded debt trap. But as the source of credit changed from the corrupt village moneylender to reliable banks and manufactures, peopleís attitude too changed from abhorring credit to welcoming it. "People have realised that credit is a good thing," feels the bank official. "Even people who can afford to make cash payments prefer to take credit because of the zero-interest schemes," points out Rajiv Gakhar. The fact that people are spending from not their present but their future incomes means better lifestyles and more purchasing power today, even if it means smaller bank balances. "People are also more confident about their ability to generate more money to meet their aspirations. So if someone wants to purchase, say, an apartment that seems somewhat beyond his reach, he simply starts looking for a job that pays better," says the bank official.
As people change from being small-time savers to being big-time spenders, the ways in which they celebrate festivals too changes. While Divali has always meant lights, gaiety, excitement and festivity, but perhaps never before have markets been marked with the kind of dizzy euphoria one can see this time around. Goddess Lakshmi, it seems, has finally come into her own.