Where water abounds can exotic flora and fauna be far behind? The state is home to nearly 700 rare species of medicinal herbs and 300 orchids. Orchids, like pitcher plants, are valued for their colourful flowers. India is home to more than 1200 exotic orchids out of nearly 17,000 species found around the world. One-fourth of these 1200 are found in Meghalaya.
EARLIER COLUMNS
A paradise called Atlantis
Mohinder Singh
October 12, 2003

Growing vegetables in a sea fort
Abhilash Gaur
October 5, 2003

A city of bulging domes
Arun Gaur
September 28, 2003

The timeless temple of Ambarnath
Abhilash Gaur
September 21, 2003

Worshipping Durga in Goa
Ervell E. Menezes
September 14, 2003

Missing history for the woods in Bassein
Abhilash Gaur
September 7, 2003

A yatra that is an affirmation of faith
Shashi Mehta
August 31, 2003

Theme for Tughlaq's dream
Shona Adhikari
August 17, 2003

Pearl of the Indian Ocean
Priyanka Singh
August 10, 2003

Dholpur: High on history, low on fame
M. P. Nathanael
August 3, 2003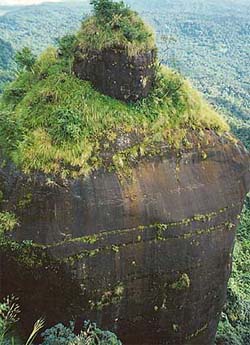 Khohramhah, a giant monolith at Cherrapunji, overlooks the plains of Bangladesh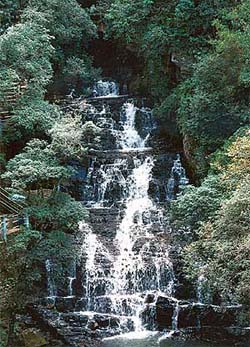 Elephanta Falls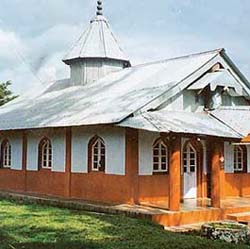 Temple of Goddess Durga at Nartiang
Nearly 90 per cent of the people are non-vegetarian and almost every adult chews Quoi (betel leaf). In fact, this is what they offer to a stranger before they actually start conversing with him or her. Meghalaya is geographically divided into Khasi, Jaintia and Garo hills and the society is matriarchal.
Guwahati is the nearest railhead that is nearly 110 km from Shillong. Share a cab for Rs 90 and you are in the state capital after less than three hours of journey. On way, visitors will be greeted by Umiam lake, or Barapani as it is called, a huge water body spread over many square kilometres. Local legend has it that there were two sisters from the Heavens who wanted to descend down to Meghalaya. For whatever reason, only one sister could make it. So she cried her heart out mourning the loss of her sibling and Umiam Lake was formed with her tears. Nehru Park is a stone's throw away from the lake and an aquatic sports complex is a part of the lake.
Once in Shillong, hop-in hop-off taxis that ply take you anywhere for just Rs 5. No Mall Road in this hill town for a change. The famous shopping complex(es) are Bara bazaar and Police bazaar while most of the government offices are housed in Lachiumere. Incidentally, Shillong is the biggest hill station in India. There are a few places worth visiting in Shillong. Ward's Lake, Shillong Peak, Elephanta Falls, Bishop's Falls, Beadon's Falls, Crimoline's Falls, Spread Eagle Falls, Sweet Falls, Lady Hydari Park, Cathedral of Mary Help of Christian and Golf course are a must dekho for anyone visiting the place for the first time.
Cherrapunji or Sohra is nearly 60 km from Shillong. On way you can make a brief halt at Krem Mawmluh to visit a cave with five river passages. As much as 4.5 km of this cave has already been explored and is illuminated Once inside, stalactites hanging from the ceiling can take your breath away. The honour of being the wettest place on the earth has been restored back to Cherrapunji a fortnight ago from Mawsynram, an adjacent town that wrested off the distinction briefly. Mawsynram is known for giant Mawjymbuin (Shivalinga). Geologically speaking, it is a giant stalagmite formation. Once in Cherrapunji, visit Thangkharang park and a bird sanctuary within. From the park one can view the famous Nohsngithiang falls and the plains of Bangladesh. Once out of the park, drive down 5 km to see Khohramhah, a 60-ft giant monolith that resembles a basket.
Laitkynsew is 15 km from Cherrapunji and houses living root bridges (single-decker and double decker) across a torrential stream. Jakrem is 64 km from Shillong and hot spring is a popular health resort.
Jowai is district headquarters of Jaintia hills and is 65 km from Shillong located on the picturesque Shillong-Sichar highway. Coalmines surround the township and on way to Jowai lies the beautiful Thadlaskein Lake. This placid lake is a popular picnic resort and locals say that the followers of the Jaintia chieftain U Sajar Nangli dug the lake that is fed by underground springs. Nearly 15 km from the highway is the 500-year old temple of Goddess Durga at Nartiang. A Jaintia king, on conversion to Hinduism, constructed the temple. The sanctum sanctorum of the temple was earlier connected to river Mytndu by a steep tunnel. Every year human sacrifice was made at the temple. The head used to roll down the tunnel into the Mytndu. The days of human sacrifices are gone and a goat is now ceremoniously sacrificed each year during Durga Puja. Nartaing village also has an impressive collection of monoliths, the tallest one being more than 8 metres in height. These are said to have been erected by Mar Phalyngki, a goliath. Adjacent towns have innumerable caves that are still unexplored.
When this correspondent packed his bags for the North-East, a colleague handed over a piece of paper that read: "Shillong is a beautiful town...Built on a sacred ground...Caves and cascades around...Shillong is a dream town!" Back home wiser, one more line can be added to the rhyme. "Since the downpour is profound, wear an umbrella as permanent crown." An umbrella is a must in this dream town situated in the abode of clouds.