SCHOOL BUZZ
A host of edutainment events
Smriti Kak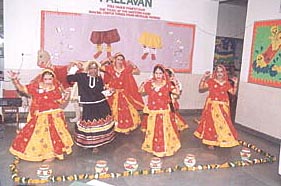 Students of DPS Ibtida performing Rajasthani folk dance.
TALENT Fiesta, a potpourri of events, was organised by Delhi Public School, Mathura Road. Various schools from the national Capital participated in the 35 events, which included debates, quiz, skill-based competitions and performing arts.
A 'Creativity Day' was also organised. Inaugurated by the president of the DPS Society, Mr Salman Khurshid, it showcased the talent of the children in putting up models of various gadgets, exhibits like cooking without a fire, photography and philately.
Among the judges for the various contests were dancer and bureaucrat Shovana Narayan, former Miss India Naina Balsaver and Kavita Sharma, Principal of Hindu College.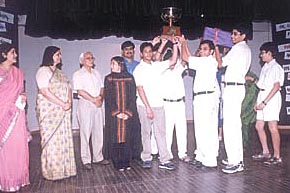 DPS Society vice-chairman Ashok Chandra giving away the trophy to the students of DPS R K Puram.
Amala Chatterjee Inter-School Debate for middle classes saw students express their views on, 'Rebellion for the youth spells doom', while the senior students debated on, 'The winner in today's rat race is nothing but a rat'.
The host school bagged the overall trophy while DPS Noida and DPS Vasant Kunj came second and third, respectively. The prizes were distributed by Mr Narendra Kumar, Chairman, DPS Society.
A valedictory function was also organised for teachers participating in the In-Service Teachers Education Programme for teachers from Afghanistan. The programme was held under the aegis of the Ministry of External Affairs for six weeks.
Mr Arun Singh, Joint Secretary, MEA, presented CD lessons and a set of books to Afghan delegates.
Health project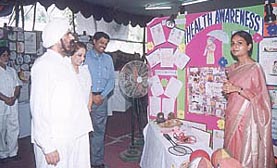 'Health Mela' organised by Darshan Academy.
Darshan Academy organised a Health Project Week on the theme, 'Health Awareness'. The programme was held under 'The Clean City Campaign', launched by Delhi Chief Minister Sheila Diskhit.
Through the campaign students were made aware of various aspects of health and how to stay fit. Doctors and area experts were called into share their experiences with the students.
The students, on their part, conducted surveys and interviews and presented skits and puppet shows, using them as a tool for creating awareness.
A health mela was also organised on the school premises; visitors had an opportunity to enjoy health foods and games and watch performances put up on the occasion. It also included camps for drug, tobacco and alcohol addicts.
A meditation hall, where people could learn the basics of meditation under the guidance of Sant Rajinder Singh, was also part of the mela.
Talent festival
The YMCA organised a three-day inter-school talent festival from October 15 to 17. As many as 500 students from more than 17 schools participated in the events, which included Western vocals, folk dance, western dance, on-the-spot-painting and one-act play.
E-spice
DPS Noida organised a computer competition, 'E-spice.' The occasion saw the students competing against each other in events like movie-making and group discussions.
Movie-making, which was introduced this year, required the students to make a five-minute film on a given theme. Gaming, which included a speed as well as a strategic game, was also popular. The event was organised in association with HCL Beanstalk and Microsoft Windows XP.
Dengue drive
To create awareness about dengue and to educate the people on its prevention, students of Children's Valley School, Preet Vihar, organised a 'Dengue Drive'. More than 100 students participated in the rally, which visited nearby localities and, armed with placards and posters, spread awareness about the dreaded diseases, which has gripped the Capital.
For poor pre-schoolers
Doing their bit for society, IBM India has launched 'IBM Kidsmart Early Learning Programme', aimed at introducing technology at pre-school level. It is designed to help pre-schoolers from underprivileged sections to get a head start on their academic development through the use of appropriate software developed by IBM.
The programme will also focus on the professional development of teachers. The schools targeted include Aanganwadis, government-runs schools, army and navy schools and those run by the corporation.
Pre-Divali bash
Victorinox organised a pre-Divali bash for children from various NGOs, including Prayas and Salaam Balak. The event held in the Capital was also attended by war widows, Brig Khetrapal, Maj-Gen Ian Cardozo and Joint Commissioner of Police, Maxwell Pereira.
The event included a 10-minute explicit fireworks show and tips from the Delhi Fire Department on safe ways to light crackers. The children were also given Divali gifts and refreshments.