7 die, 50 hurt in train mishap
Faulty wheel disc caused derailment: Nitish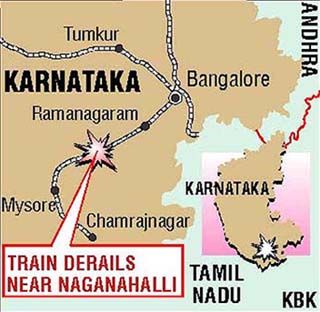 Bangalore, October 23
Seven persons were killed and over 50 injured when five coaches of a train carrying hundreds of people to work in this Karnataka Capital derailed early today shortly after leaving Mysore.
Senior police officials identified four of the dead as women and said 10 of the injured were reportedly in a critical condition.
The Bangalore-bound train ran off the tracks at Kat Srirangapatnam, 14 km from Mysore, at about 6.25 am.
Railway Minister Nitish Kumar, who was here for the signing of an agreement with the Karnataka Government for a railway project, said a faulty wheel in one of the derailed coaches caused the accident.
"Wheel disc failure is said to be the reason for the mishap," Mr Kumar told reporters.
The wheels were manufactured at the Durgapur Steel Plant and there were some instances of faulty wheels causing accidents in Central Railway and other parts of the country, Mr Kumar said.
The Railway Board had been asked to take steps for removing faulty wheels, he said.
The injured were rushed to hospitals in Mysore and Srirangapatnam, a Railway spokesman told IANS in New Delhi.
Railway and police officials confirmed four deaths but reports from other sources put the death toll at seven.
The toll could have been higher if the train had been travelling at a higher speed, one official said.
The derailment occurred on one of the busiest sections of the Bangalore-Mysore route, and the accident crippled services in the area.
Rescue workers were searching the derailed coaches to find people who may have been trapped inside.
Mr Kumar was to visit the accident site but deputed Minister of State for Railways Basanagoud Patil.
The Commissioner for Railway Safety too was conducting an inquiry into the accident.
Mr Kumar announced a compensation of Rs 1 lakh to relatives of those killed, Rs 50,000 to those seriously injured and Rs 5,000 to those with minor injuries.
A string of accidents has rocked the Indian Railways this year, claiming scores of lives.
Officials admit that many derailments, averaging one a day, never get reported because there is no human casualty.
The Railways is in the midst of upgrading several sections of its 63,000-km network and hundreds of old bridges and signalling systems to reduce accidents. — IANS