Jones' exploits left a lasting impression
K.R. Wadhwaney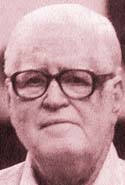 What Dhyan Chand was to hockey, Wilson Lionel Garton Jones was to billiards. They had magnetism in their hands: ball just stayed glued to their sticks.
Called 'Gentle Giant', Wilson was as much a father of billiards as Prof D.B. Deodhar was of cricket. It was just a coincidence that both belonged to a small city, Pune.
These similarities do not end here. All three stayed modest all along without gloating about their achievements, which were many and unparalleled. Again, all three were virtually uncared for by their respective federations.
The exploits of Jones have been so fascinating and admirable that they have left a lasting impression on billiards and generations for this marvellous sports, called green baize.
Jones was at his dazzling best at Calcutta's great Eastern Hotel where, in 1958, he became the first Indian to wear the World-Amateur billiards crown. His display in this championship was captivating to all those who had the privilege to be present in the hall. His blazing achievements and accomplishments played a pivotal role in providing a great fillip to the game which, among others, saw Geet Sethi revel in the game in later years.
Jones regained the title of World Championship in 1964 at War Memorial Town Hall, Pukehole (New Zealand) after failing at the doorsteps in the final in 1960 and again in the final in 1962. He retired in 1967. He played in seven World Championships.
Jones' record in domestic circuit was mind-boggling as he won the national title for 12 times in 1950-52, 1954-55, 1957, 1960-61, 1963-66. He was also national snooker champion in 1948, 1952, 1954, 1958 and 1960. Twice in 1954 and 1960, he won the billiards-snooker double.
Essentially self-taught and self-coached, he picked up finer points of occupying 'top table' from his renowned four predecessors, Walter Lindrum (Australia), Joe Davis and Tom Newman (England), and Clerk McConally (New Zealand), whom he had an occasion to watch.
Jones was an intense competitor. When he felt that it was time to retire, he did it without any fuss. He immediately took to teaching youngsters with the same intensity. Among his numerous pupils are two famous players, Michael Ferreira and Geet Sethi. Both readily acknowledge that Jones was their 'Guru's' crusading spirit. For Ferreira and Sethi to say this shows how humble they continue to remain and how great Jones was in his coaching ability.
In his illustrious career, Jones did have occasions to meet many world renowned celebrities. But one moment that he remembered fondly was when he called on the President, Dr Rajendra Prasad, and Prime Minister Pandit Jawaharlal Nehru.
Jones recalled: "As I entered his (Nehru's) room, I saw him leave the kidney-shaped table at which he was at work. He came up to me lightly on his feet, his eyes lit up with happiness as though he was meeting a long last friend. And he shook my hand warmly. It was my proudest moment".
A journalist of the national daily about this meeting summed up as thus: "When great men meet, what do they talk about? Nothing, really, and not much for headlines. There is about such a meeting a silence most eloquent, and eloquence most silent. So little is said and yet so much understood".
The meeting lasted roughly seven minutes. Of this, photographers took four minutes merrily clicking away. When Jones was leaving, Panditji, in his own typical style, told him: "Try to keep the trophies as long as you can".
Decorated with 'Padma Shri' in 1966, Jones deserves to be decorated with Padma Bhushan posthumously. Winner of 'Dronacharya' in 1996, he said: "I dropped 'Garton' because it sounds too English.
This showed his nationalism and humility. It was an education to talk to him. (My last meeting with him was in 1997 in Ashoka Hotel after he had received the Dronacharya award.)
Born at Pune on May 2, 1922, Jones was a voracious eater in his young days. He once took 12 kulfies after taking a full Gujarati meal.
Wilson was a brilliant after-dinner speaker. His style of delivery and method of narration were marvellous. He was a store-house of anecdotes. He would hold audience spell-bound just as he held them spellbound with his artistry on the table.
The pity is that Wilson died unsung and unheralded. Yet another noble soul leaves permanently and sporting world is indeed shrinking.
When Wilson was alive, his renowned and respected pupil Michael Ferreira once said: "Thank you, Wilson, for what you are, and I only hope I can be to others what you have been to me".