FASHION
Magic of Indian embroidery
Pinki Adil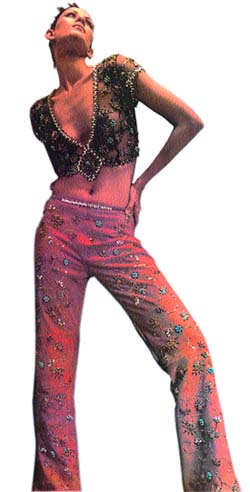 WHAT sets an Indian garment apart from the rest? In this age of globalisation, when eveything is available everywhere, you cannot merely trust the designer's label to be sure. That can be easily sourced — just as the fabric, pattern, colour schemes, embellishment and accessories can be generated anywhere anytime.
But there is still one element that is identifiably Indian and as any overseas designer would readily acknowledge, which cannot be replicated elsewhere. It is the skill and finesse that goes into embroidery, which gives an Indian garment its distinctive look.
Many may scoff at the over-emphasis on embroidery when minimalism should be more of an in-thing. Yet, no designer can do without a dash of ostentation, even with well-constructed, tailored outfits, not to mention conventional salwar- kameezes, kurtas, lehnga-cholis and sarees.
In all this, zardozi happens to be the most popular and sought after embroidery form with all designers. Traditionally, it used to be executed in gold and silver wire (salma and sitara respectively) on rich textiles like silk and velvet.
But today, for a salwar-kameez or jacket, plain silk thread (which produces a metallic sheen) is used and instead of having a pattern stamped with the help of wooden blocks, impressions are made with gum and chalk from paper stencils. The embroidery is done by hand, using needles of different sizes.
Often readymade shapes of the material, with names such as nakshi, sadi, kora and kangani are stitched on to form of zardozi patterns. This material is purchased by weight and is available in grouped sections or bunches known as lachhis, held together by a fine string.
Then there is chikankari. The most significant development in this form of embroidery is that craftsmen have turned adaptable to the demands of the fashion industry. Earlier, on the pretext of holding on to time-honoured customs and traditions, they were reluctant to "compromise craft" to market forces.
Star designers Abu Jani Sandeep Khosla discovered this when they went to Lucknow to get some chikankari embroidery done. Much to their amazement, they found craftsmen not only willing to experiment with newer fabrics like chiffon, but also innovate on their technique.
The change in attitude and a sense of professionalism among the younger generation of chikankari workers have made them hot property in the Bombay fashion mart. Better still, chikan work has become a "highly evolved" embroidery form, lending itself to crinkled cottons, applique and clothes with tassels!
In her collection of temple sarees, Anjana Kapoor applied chikan embroidery on silk for the borders and on white odhnis and stoles. Crinkled lengas, short cotton kurtas and knee-length skirts also made a celebration of this ancient embroidery tradition.
Another designer making waves with chikankari is Vinita Rastogi of India Vibrations fame. She has combined tiny beaded pears and shimmering sequins with chikan work in an exquissite collection chiffon sarees, silk cholis and gorgeous lehnga-cholis in reds, greens and blues!
Phulkari and bidri are two other embroidery forms undergoing a revival of sorts. Nimisha Gokhale had her wedding line of body-hugging kurtis and long skirts in jewel tones with phulkari and sali (or tube) work.
On bidri work, the most notable collection comes from Renu Jolly with her range of 'cocktail sarees', kurtas and salwar-Kameez ensembles. Significantly, they were all in black— making the embroidery stand out.
Then there are certain embroidery forms involving mirrors, beads, stones, shells... even jute ropes which find expression in casual wear - strapless halters, one-shouldered tops, back-blouses, lachhas, skirts with asymmetrical hemlines and parallels. (MF)