I love success, and how!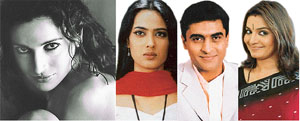 It is hard to deny that TV artistes have now become brand names. The recognition enjoyed by these icons, some of whom are barely a few years old in the profession, is fulfilling and heady for them. It opens a hitherto unknown but pleasant avenue in their lives. How's the walk along Success Lane? Gitanjali Sharma talks to some of the leading lights of the television screen and discovers interesting aspects to what it means to be recognised on the street.
The beads that bring relief
Navadeep Singh
RUDRAKSHA are the seeds of the fruit, which grows on rudraksha — elaeocarpus ganitrus — trees. The fruit, which constitutes of pulp and a thin outer skin, has seeds with varying mukha (facets). The rudraksha tree, which is as big as a banyan tree, grows in the Himalayan regions of India, Nepal, Indonesia, Java and Jakarta.