I love success, and how!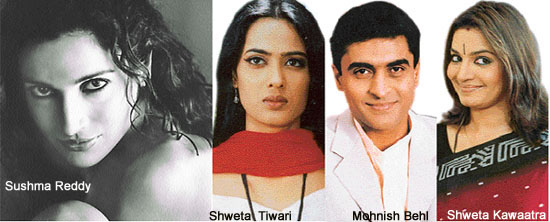 It is hard to deny that TV artistes have now become brand names. The recognition enjoyed by these icons, some of whom are barely a few years old in the profession, is fulfilling and heady for them. It opens a hitherto unknown but pleasant avenue in their lives. Howís the walk along Success Lane?
Gitanjali Sharma talks to some of the leading lights of the television screen and discovers interesting aspects to what it means to be recognised on the street.
"99.9 per cent of the success comes through luck"
Mohnish Behl has won acclaim for his role of Dr Shashank in Sanjeevni
I have been working for the past 21 years but that is another matter that my work has come to the notice of public only now. Iíve always given my best shot to every role that Iíve enacted. Thereís no doubt that you need hard work, discipline, dedication and sincerity to achieve success but I would say that 99.9 per cent of the success comes through luck. I have been quite happy acting both for the big as well as the small screen. My choice gets determined not by the medium but by the role. But you cannot deny the fact that for the kind of exposure one serial on the small screen can bring, you would need at least 10 film releases a year.
Recognition is one of the perks that comes with success. I experienced it even before I joined this line, thanks to my mother. Recognition makes you more aware and conscious of your responsibilities. But it is not something that you judge, it is just there and you accept it. It is like wearing a seat belt while driving or not drinking while driving.
I have been very satisfied with my roles up till now. While I always looked up to my mother for inspiration and hope to maintain her credibility, my motivation comes from my wife and child. Booked for 25 days in a month, I try to give them as much time as possible. And they too drop in on the sets whenever they are free.
I donít really have any regrets in life, for thereís no point going back to the past and thinking you could have done things differently. Everything has a positive side to it.
"It is very exhilarating to be successful"
Sakshi Tanwar portrays the popular Parvati, the demure eldest bahu in Kahaani Ghar Ghar Kii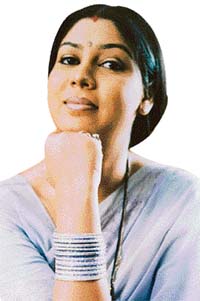 Even while I was doing my software engineering diploma and preparing for the civil services examination, I was doing small-time roles in Delhi. My big break came with Kahaani Ghar Ghar Kii three years ago.
I remember my folks were with me in Mumbai when Kahaani `85 went on air for the first time. Like other times we had gone to Juhu beach, but to our surprise we literally got mobbed by the crowds there, and had to run away from the place. The look of pride, however, that I saw in the eyes of my parents is still etched on my mind. And I cannot help but feel elated when I get acting offers from those producers in Delhi who had once rejected me.
It is very exhilarating to be successful, but I have had to give up a lot of things. The foremost thing that comes to my mind is the loss of privacy. You have people knocking at your door since early morning. And what do they want? A picture with you. It does not matter to them that they might be disturbing your sleep. Moreover, with three-fourths of my day devoted to work, thereís little time for any thing else. My family has been with me for the past two months, but I have managed to take them out only twice. And itís been a long time since I have attended a family function`85 thereís just no time.
I realise I still have a long way to go. I can willingly give up anything for work, for I firmly believe that the show must go on no matter what. Success, I feel, surfaces with a lot of hard work, sincerity, professionalism and perseverance.
For all my friends Iím still the same Sakshi they knew before I got popular. I have made a few new friends now, but how true they are I shall find out only when I am no longer a part of stardom.
"Success is a journey, and every day you face a new battle"
Ronit Roy plays the debonair Rishab Bajaj in Kasauti Zindagi Kay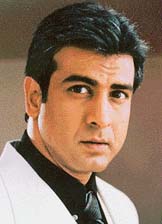 I tasted success with my first film Jaan Tere Naam in 1992. After that I went through a bad patch, but took it all in my stride.
Success to me is like a journey, and the road ahead is always much more difficult and requires harder and harder work. I feel the more successful you are, the humbler you get. You learn to be more tolerant... may be it is the result of the labour you have put in.
There is no single mantra for success. Lots of people like my father (businessman) and uncle Subhash Ghai have been a source of inspiration for me. Different situations too contribute to what you become in life. My father taught me humility and how to handle situations with diplomacy. Subhash Ghai, with whom I lived for a few years, put me through the grind from which I emerged stronger.
Success is a journey, not a destination. Everyday you have to face a new battle. You have to do better work than you did the previous day.
While your family and genuine friends feel happy with the accolades you get, many cannot handle somebody elseís happiness. But that is okay, it is all part of the game.
I am happy with the two serials Iím doing on the small screen. They take up most of my time. Now people donít look down on TV. Small-screen stars are as popular if not more than the film stars. Unlike the movies where the dashing hero may be the delight of just teeny boppers, serials have a larger fan-following: men, women, children, grandparents, all are hooked to them. I feel honoured when even three-year-olds walk up to me shyly and address me as Bajaj uncle.
Putting in 16-18 hours in a day, leaves me little free time. In fact, I was once a big party animal. Again, I havenít seen a movie for about one and a half years and thereís just no time to meet friends. But I donít miss all that I canít do. I like to remain focused on what I have to do.
"Mine has been a well-deserved success"
Sudha Chandran has gained recognition for enacting the conniving Ramola Sikand in Kaahin Kissi Roz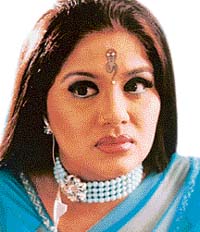 MINE has been a well-deserved success. Iíve worked for it. I have sacrificed long years of my youth for it. This success came to me after one long journey of struggle since the days of Mayuri (the film in which I featured) till Kaahin Kissi Roz, which again brought me fame.
After Mayuri I was dismissed as a one-film wonder, one not cut out for other roles. But the small screen helped me change this image. Though I am still the same Sudha, recognition has certainly made me more confident. Today, I get my prize for what I do. The attitude of film-makers too has changed. Now if I go to any public place, it is both amusing as well as embarrassing to have men come up to me and compliment me on my sarees. They say they want their wives to dress up like me. Why, the other day I was invited for a function to Udaipur, and the organisers sent me a ticket in the name of Ramola Sikand!
Thankfully, my husband, my family all have stood by me through my 9-10 years of struggle. Situations have been my sources of inspiration. Whenever Iíve been denied anything, Iíve strived harder to attain it. After my accident, I wanted to prove all those wrong who thought I wouldnít be able to even walk properly. I took up my work with greater enthusiasm just to prove a point.
I have had to forego my youth to see success, which came with tremendous hard work and belief in myself. And of course, getting the right projects helps. Or shall I say, the right things at the right time and at the right place works!
"It has given me recognition, made me popular"
Sushma Reddy is the trendy Channel V VJ
I am a workaholic. I like to spend as much time as I can doing my work. I worked for a few years as a model before I began to VJ for Channel V about two years ago. TV as a medium has its own strengths, and it has certainly given a big boost to my modelling career. It has given me recognition, made me popular. Recognition certainly increases your value, as clients prefer known faces. Besides VJ-ing and endorsing products, I would like to take up film-making. The small screen has given me the confidence to pursue this dream.
Personally, however, I have never concerned myself with all this recognition, which has both a positive and a negative side to it. People certainly watch you more and that encroaches on your privacy. At times I canít do all that I want to do because I donít want to feature on Page 3 for the wrong reasons.
Acclaim may help you fetch more work but in the bargain you end up losing your privacy. Recognition leaves you exposed. Since you are selling you face, your voice, your acting skills, you have to be open to criticism. All this teaches you to adapt and improve yourself. I have certainly emerged stronger from this exposure. I am also more patient, tolerant and well-groomed, for in this line you have to keep working on yourself. Another plus about being a known face is that it is easy to break ice and make conversation with people. At times people try to get extra friendly with you but that you learn to handle. What is important is to keep your head on your shoulders at all times.
"I feel on the top of the world with this adoration"
Shweta Tiwari plays Prerna in Kasauti Zindagi Kay
Now that Iím doing well, it seems everybody thinks I am great. Whatever I wear is considered the fashion of the day and whatever I do seems to be the in thing to do. I may feel on the top of the world with all this adoration but all this attention can get a little uncomfortable too. I canít go out to movies, beaches`85people mob you. What is more, I have to behave in a particular way when I go out: canít laugh as much as I would like to, canít freak out. Have to be reserved for I know that I am being watched all the time.
I was doing theatre before I joined Kasauti Zindagi Kay and took up modelling assignments. I fully realise that now is the time for me to work. And I am lucky that I have my hands full. The major ingredient of success certainly is luck. After it, comes hard work, which must be accompanied with honesty and dedication.
"Success has made me more aggressive"
Aman Verma is Anupam in Kyunki Saas Bhi Kabhi Bahu Thi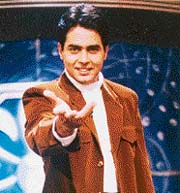 Ah! I feel happy seeing the whole world coming to a stop when I step on the road. The adulation that comes with success and recognition has certainly made me more aggressive. For instance, I donít like wasting time. I donít like spending even a minute more than than what is required, whether it is while talking to people, working on the sets, commuting, etc.
At this juncture in life I know I just want more work. Success demands a price. I have had to break away from my friends and colleagues. I, however, have no regrets in life. This is what I had wanted from life and I intend remaining focused on my work.
Success comes with hard work. Kismet is a word used by failures, people who find excuses for their disappointments.
"I value my success. I slogged for it"
Shweta Kawaatra has been appreciated for her role of Pallavi in Kahaani Ghar Ghar Kii
I was in Delhi doing modelling and ramp shows before I came to Mumbai seven years ago. I never had acting in mind. In fact, I had nothing planned in life. When I came to Mumbai I tried my hand at a number of things`85 I would make some money by featuring in catalogues, music videos. Then I featured in a serial called Suhana Safar, which in six months went off air. By then, however, the acting bug had bitten me so there was no going back. I lived from hand to mouth for four years. I have even had to do with one meal a day during those years of struggle.
I value my success because I have slogged for it. I could have gone back to Delhi and lived comfortably with my parents but I chose to stick in Mumbai, a place where I didnít know anybody. Besides, the PG accommodation you get in Mumbai is nothing compared to the lavish lodging that is offered in houses in Delhi. All through the trying times I resisted the temptation to borrow money from my parents.
Now when I look back at those years, I feel glad that I could prove my worth to myself. All these years have been a learning experience. Success certainly sees your capabilities. Luck undoubtedly counts, but unless you have it in you, you will not reach anywhere. Luck may strike but how far can it take you unless it is accompanied by determination?