ZEROING IN ON...
The poet who keeps open house
Aruti Nayar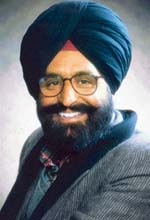 REMEMBER the song from Purab Aur Paschim: Mera dar khula hai khula hi rahega, tumahre liye? One thought that such sentiments were expressed by a love-lorn poet only in the realm of literature or on celluloid, where a dejected lover leaves the door of his house open in the hope that the beloved will definitely come back one day. Meet Balwant Singh, popularly known as Beeba, a painter, poet and theatre person, and you realise that sometimes life imitates art.
Born in Jagraon on July 13, 1945, Beeba is an alumnus of the Government College of Art, Chandigarh. A student of the college in the early sixties, Beeba has many happy memories of the city. His landscapes and portraits have evoked praise from viewers and critics alike. His medium is oil on canvas and a favourite is the pigeon series, a woman is symbolised by a dove and the series represents the spirit of womanhood, travails and finally the crucifixion at the altar of tradition. This series was acclaimed by M.S Randhawa. He is also the recipient of the national award for designing the best poster for the Family Welfare Department. His photo prints of Sobha Singh's paintings adorn the walls of the Sobha Singh Memorial Art Gallery at Sri Hargobindpur.
In the beginning, Beeba left the door of the house open so that his beloved could come back any time. Later on, it became a habit and till date, his house is not locked. In fact, not only literally but also metaphorically Beeba keeps open house. His home, designed by the famous Kirpal Kazakh, is a haven for friends and fellow artists who converge there to unwind and for mental stimulation. He did not cut any trees to build his house. Since a human being cannot even create a leaf, what right does he have to cut trees, asks Beeba. So, the rooms were made to wind their way around the foliage.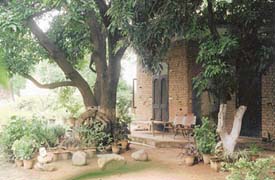 The house of Beeba in Gurdaspur is a haven for friends and fellow artists. — Photo by Balwant Singh
Along with his artistic pursuits, Beeba is involved with theatre. He had begun his career along with Harpal Tiwana and Om Puri and acted in many plays of the famous playwright Kapur Singh Ghuman. Recipient of the Best Actor Award from the Indian Art Revival Group and the Best Director Award from the Punjab Naat Sangh, Chandigarh, he also studied Osho, stayed in the ashram at Pune and became Swami Bodhi ekin.
An employee of the Department of Health based in Gurdaspur, Beeba stuck to a regular government job though it was difficult to reconcile an artistic temperament with the demands of a routine job.
But he values relationships with people. When a local owner of a drycleaning shop bought his painting and realised how it was worth much more than what he had thought, he promised Beeba to dryclean Beeba's clothes free of cost, for a lifetime.
A firm believer in the triumph of the individual over collective will that compels one to conform, there is no dichotomy between Beeba's beliefs and his life. A free spirit, he travels and treks and nurtures friendships that have endured the trials of time. Beeba feels readymade relationships are the given but what matters is what we build on instead of what we are born with. The proof of his immense faith in nurturing relationships is the bond that he has forged with friends in Canada and Germany, where he will be exhibiting his paintings soon. He feels human beings, but for minor cultural variants, are the same everywhere because their joys and sorrows, needs and insecurities are common. It is this fervent faith in the commonality of human experience that makes him bond with friends from diverse socio-economic and cultural groups."
A fan of Mohanjit, Amrita Pritam, Shiv Kumar Batalvi and Surjit Patar, Beeba channelled his failure to find true love in real life into poetry. Two books of poetry, Terian Galan Tere Naan and Phulan de Rang Kale embody his convictions. Both the brush and the pen are tools that help him in his attempt to understand and explore "My own self and the world around." His poetry is born out of his disgust with the customs and rules of society and the hypocrisy that underlies social interaction.
Piar ton jo sakhne hunde viah,
Aadmi di zaat de hai sir suah,
Jism chundan aarh lei lal lawaan di lok,
Din dihare ho rahe aithe gunah.
(Loveless marriages, so frequently performed, are a curse upon the human race, people devour flesh under the garb of religious rituals. It is nothing short of adultery in broad daylight.)
Ghar dian nihan de heithan taan dafan piar de jazbe,
Kandan utte Sohni te Mahiwal dian tasveeran
(In the foundations of the home are buried love but portraits of Sohni and Mahiwal hang on the walls).
Associated with Chandigarh since his student days, Beeba is of the view that the structure of the town is new but the mentality of the people is not "new." We might have all the trappings of modernity as in advanced technology and a faster pace of development, but the customs and traditions remain. At the core, we have not changed at all.
Balde sive de kol vi galan karde ne,
Loki kamaan karaan de vistaar dian
Aa Beeba, sang sajna de koi gal kariye,
Ambran te labhiye pairhaan daar dian.
(Even in front of a funeral pyre, people talk of ways and means of expanding their business. Come Beeba, along with the beloved, let's trace the footsteps of birds.)
If nothing else, meeting Beeba certainly opens the doors of one's mind.