MUSIC ZONE
Penaz panache
She holds overseas audiences spellbound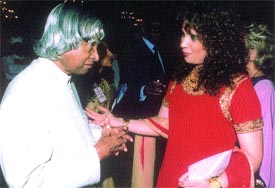 Dr A P J Kalam with Ghazal singer Penaz Masani at Rashtrapati Bhawan.
Penaz Masani, the lady with a golden voice and a charming personality, is back in India after a very successful trip to South Africa, Nigeria, Ghana and Senegal. She gave some enthralling moments to these countries with her soulful ghazal singing.
Organised by the Council for Cultural Relations and the Indian High Commission (and Indian Embassies abroad), the concerts drew huge number of crowds. Not only the Indians, but the South Africans too enjoyed the mesmerising voice of Indian ghazal queen. Her performances were a unique combination of traditional and contemporary song and dance. She even made audiences sing with her with a beautiful synchronisation of ghazals and pop songs. She got rave reviews there from the press too.
After the return of this cultural delegation, a dinner was organised by the President, Dr A. P .J. Kalam, at the Rashtrapati Bhawan in honour of Mr Abdoulaye Wade, the President of Senegal.
Singer Sukha
India has long been known as the land of music and music lovers, where many famous music artists have taken birth and have done the country proud by captivating the whole world with their music. Most of them have originated from small towns and have a profound knowledge of their folk roots.
Similar is the story of Sukhdev Singh Binning alias Sukhdev Sukha. Born in Punjab in a sleepy village of Bhanoki near Phagwara) in Kapurthala District, he is the youngest of four brothers and one sister.
After graduating from Guru Nanak College Sukhchainana Phagwara, he migrated to Canada in February 1996, and is presently settled in Vancouver (BC). Fascinated with music ever since childhood, music became his mantra in life. So passionate was he that on listening to a melodious voice or tune, he would never take a step further.
Starting his career as a bathroom singer, he would often sing in the fields to the tune of tractor's roar. He started his music journey when he sang for the first time in a religious function of his village. After drawing an overwhelming response from his peers, he began to pursue his musical career with fervour. Singing came right as a heavenly gift to him, but he never misses to mention Master Mohan Lal's name, who initiated him about 'Sur Gyan'.
While in Canada, he contacted Music Waves, a North American music company. And his first album 'Tu Mast Kallandar' was released after a hard work spanning over three years. With Miss India Celina Jaitly performing in his first video, Sukhdev Sukha knew he had a hit on his hands. In between, he also took part in Charanjit Ahuja Nite in North America in 1998 and 2000. 'Tu Mast Kallandar' was subsequently released in India by HMV in 2001. HMV also organised Sukha's shows along with Venga Boys in Chandigarh and Lucknow. Later, he also performed in the 'Food and Craft' mela at Chandigarh. Special 'Sukha Nites' were also arranged at Bathinda, Nakodar and Amritsar. He also accompanied Pal Anjan to perform at various places.
His latest album, 'Dhola', has been released by T-Series and Sandesh Shandliaya (Ganga Jal, Rules, K3G fame) and Ravi Bal have composed the music of his album. The album consists of eight songs with lyrics by Rupinder Gill, Jasbir Gunachauriya, Harinder Dhillon, Irshad Kamil and Sandesh Shandliaya. The album replete with bhangra beats suits the taste of the Punjabi audience worldwide. It also has songs for the romantic souls and the music is a rich amalgamation of Latin and Jazz tones.