Saurav, Mandeep scrape into semis
Tribune News Service

Chandigarh, October 31
Saurav Kapoor of Haryana got the better of Akshay Dewalkar of Maharashtra 13-15, 17-14, 15-10 to enter the semi-final of the boys under-16 singles in the ninth Tarachand Memorial All-India Badminton Tournament at the Devi Lal Sports Complex in Sector 3, Panchkula, today. Mandeep Singh of Chandigarh also entered the semi-final by beating I.S. Navin Kumar of Andhra Pradesh in an extended three-game duel after a great struggle.

The results:

Boys (under 13) pre-quarter-final: Anish Mukul (Pb) b Parteek (Hry) 15-8, 15-4; Saurav Verma (MP) b Pratul Joshi (MP) 15-1, 15-0; P. Navin Kumar (AP) b Ashish (Hry) 14-17, 15-11, 15-8; Puneet (Hry) b Akshit Mahajan (Hry) 15-11, 15-10; Raj Kumar (Pb) b Deepak Bisht (Utr) 15-8, 15-4; Pranav Chopra (Pb) b Arbit Verma (MP) 15-1, 15-3; Nitin Dhiya (Hry) b V. Avish (AP) 9-15, 15-11, 15-6; J Nand Gopal (AP) b Abhishek Ahlawat (Hry) 15-17, 15-12, 15-9.

Girls (under 19) pre-quarter-final: Dipali Ranjan (Rly) b Gauri Chopra (Dli) 11-3, 11-6; Chitralekha (Dli) b Meenu (Hry) 11-3, 11-6; Vaidehi Dave (Guj) b Poonam Tiwari (Rly) 11-9, 11-2; A.L. Ashwani (AP) b Rani Singh (UP) 11-4, 11-3; Anita (Hry) b Jyoti Sawroopa (AP) 11-2, 11-5; Sharda (AP) b Rajni (Hry) 11-1, 11-1; Neha Rane (Mah) b T. Somya (AP) 11-6, 11-5; Aprana Balan (AP) b Kannu (Hry) 11-0, 11-0.

Boys (under 19) pre-quarter-final: T. Dinesh (AP) b Oscar Bansal (Chd) 15-4, 15-1; Sumit Dahaiya (Hry) b Romit Dodeja (MP) 15-10, 15-0; Anand Pawar (Mah) b Sahil Arora (Pb) 15-4, 15-2; P. Kashyap (AP) b Mohd Khalid (UP) 15-9, 15-6; Rohit Bhakhar (Hry) b Parminder (Dli) 15-2, 15-4; Piyush Aggarwal (Hry) b Rajiv Bajaj (Dli) 13-15, 15-2, 17-16; Ajay Jai Ram (Mah) b Kiran Kumar (AP) 15-7, 15-12; Mayank (Rly) b Aman (Dli) 15-3, 15-7.

Girls (under 13) pre-quarter-final: Sharavini (AP) b Gunjan (Chd) 11-0, 11-0; Jayoti Kaur Rikhi (Mah) b Akriti (Chd) 11-1, 11-4; Jancy James (AP) b Neha (Chd) 11-0, 11-1; N. Sibbi Reddi (AP) b Anuradha (Hry) 4-11, 13-10, 11-8; P.C. Tulsi (Ker) b Kurpali Shah (Guj) 11-0, 11-1; Komal Pret (Pb) b Muskan (Hry) 11-2, 11-0; Mohini (Hry) b Stephy Kala 11-8, 11-3; Vaishali Varia b Jaspreet (Chd) 11-0, 11-0.

Girls (under 16): J. Shurti (AP) b Monika (Hry) 11-3, 11-2; N. Sweta (AP) b Mohita Sehdev (Dli) 11-7, 11-8; Anuradha (Hry) b Anchal Gupta (Pb) 11-0, 11-5.

Girl (under 10): Kirti (Hry) b Steeffi Kala (Pnb) 11-0, 11-0; Arzoo (HP) b Jisha (Hry) 11-2, 11-10; Eketa (Har) b Diksha (Chd) 11-4, 11-0.

Boys (under 16) quarter-final: Amey Joshi (Mah) b Shreyas Bhawalkar (MP) 15-10, 17-15; Saurav Kapoor (Har) b Akshay Dewalkar (Mah) 13-15, 17-14, 15-10; Mandeep Singh (Chd) b IS Navin Kumar (AP) 12-15, 15-11, 15-10.

Skating championship begins

The fourth CBSE National Roller Skating Championship was declared open this evening at the Kailash Bahl DAV Centenary School, Sector 7, Chandigarh, by Mr R.S. Gujral, Secretary, Education and Officiating Adviser to the UT Administrator.

Earlier, the inaugural ceremony began with a march past by the contigent, which included about 350 skaters from various CBSE-affiliated schools of the country. The welcome speech was delivered by Ms Madhu Bahl, Principal of the host school. A cultural programme was held after the inaugural function.

Mr Gujral, in his speech, promised that he would take up the matter of granting sports gradation for city-based skaters with the officers concerned. Mr B.R. Sharma, Secretary, CBSE, Ms Sheetal Sharma, Director, Public Schools, CBSE, and Justice A.L. Bahri were among the distinguished guests present on the occasion.

The results of today's matches were: Rink race I: Under eight: boys: Abhimanyu Singh 1, K.R. Rohith 2, Deepanshu Dhawan 3. Girls: Khushboo Savat 1, Anushika Pathak 2, Vibhuti 3.

Under 12 boys: Tejas Chimurkar 1, Kanwardeep 2, Jasman Singh 3.

Under 12 girls: Nourin Midha 1, Naiyla Kaur 2, Anushika Karnawat 3.

Under 14 boys: Salil Tripathi 1, Akash Ghosh 2, Milan Pal Singh 3. Under 14 girls: Sonali Nighania 1, Rupan Dhillon 2, Shweta Hegde 3.

Under 16 boys: Varun Vaid 1, Prateek Gupta 2, Arpit Bharat 3. Girls: Akansha 1, Akshi Bhargav 2, Poonam Chahal 3.

Football probables

Six soccer players from Chandigarh have found berth in the list of 26 probables announced by the School Games Federation of India. According to the fax message received here, 109 players from 14 states of the country took part in the two-day selection trials held on October 29 and 30 in Delhi. Mr P.S. Chhabra, secretary-general of the federation, said the final selection of the boys will be made on November 6 for their participation in the World Cup school football championship to be held from November 16 in Shanghai (China).

The city players selected in the probables list are Aita Ram, Deepankar, Bikramjit Singh, Amrinder Veer Singh, Mann Singh and Shiv Deep Brar. Harmanjot Singh and Gurvinder Singh from Punjab also figure in the list.

The other probables are: Ali Attar, Pankaj Rana, Prakash and Jitender (all Uttar Pradesh),Vivek, Santosh Kumar, Uday Pratap Thapa, Ravinder Yadav and Abhisher and Mohammad Arif (all Uttranchal), Pramod Taneja, Sahid Akhtar ( both Gujarat), Deepak Kumar, Tappan Joshi and Rashid Ali (all Delhi), Brij Bhushan Thakur (Chhattisgarh), Oscar (Kerala) and Maneesh (MP).

Panchkula win

Panchkula outplayed Bhivani by two wickets in the final of the Haryana State inter-district under-22 cricket tournament played at Bhivani. As per reports received here, Bhivani won the toss and opted to bat first. They scored 122 runs in 36 overs while Panchkula achieved the target by scoring123 runs for the loss of eight wickets in 34.2 overs.

Brief scores: Bhivani — 122 all out in 36 overs (Narender 16, Sandeep Mor 21, Ashwani 19 n.o., Amanpreet 3 for 18, Umesh Kaira 2 for 29).

Panchkula: 123 for eight in 34.2 overs (Harish Garg 50, Ravi 12, Umesh 13, Pawan 2 for 25 and Sumit 3 for 18).

Manav Das leads

Manav Das maintained his lead on the second day of the Samarveer Sahi amateur golf tournament here today at the Chandigarh Golf Club. He shot 3 under par 72 and his effort included incredible birdies on the 14th, 16th and 17th holes. Today, four players shot a round of 69, including Sandy Lehal, Chirag Kumar, Girish Virk. Simarjeet Singh of Delhi Golf Club also shot two under par 72 followed by defending champion Harinder Gupta, who finished at one under par 72.

The top 10 scores of the day were: Manav Das 139, Sandy Lehal 141, Chirag Kumar 142, Girish Virk 143, Simarjeet Singh 143, Harinder Gupta 143, Vikrant Chopra 143, Jaideep 144, Ranjit Singh 145 and Jaskirat Dullet 146.

Carrom teams

Suguna Dewan of Government Model Senior Secondary School, Sector 16, and Neeraj Bharti of Shivalik Public School, SAS Nagar, have been named captain of the Chandigarh girls and boys teams, respectively, for the XXXIIth junior national and inter-state carrom championship which will be held at Ali Bagh, Raigad (Maharashtra) from November 5 to10. The team is: girls: Harshpreet, Swati and Nidhi Kanwar. Boys: Piyush Sood, Sumit Chakarvorthy, Pardeep Mittal, Pranjal Sood and Varun Sood. Under 21: Dhruva Chakarvorthy.

Mr Sanjay Sood and Mr S.P. Dobhal will be the manager of the boys and girls teams respectively. Meanwhile, the All-India Carrom Federation has nominated Mr Mahesh Sekhri, vice-president of the federation, to be the technical director of the championship.

Cricket tourney

The District Panchkula Cricket Association, Panchkula, will organise an inter-institutional cricket tournament at Cricket Stadium, Sector 3, Panchkula, from November 15. Mr R.P. Chopra, secretary of the association, said 16 teams from various institutions will take part in the tournament.

Sports festival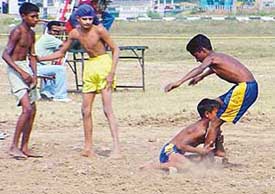 A kabaddi match between Manakpur and Rabon in progress at the Sukhdev Singh Gill memorial sports festival at the Dasehra ground in Phase VIII, SAS Nagar, on Friday. — A Tribune photograph

SAS Nagar: The three-day Sukhdev Singh Gill memorial sports festival started at the Dasehra ground in Phase VIII here today. Mr Kulwant Singh, President, Municipal Council, inaugurated the festival by unfurling the flag of the Sukhdev Singh Memorial Welfare Club. Students from Gem Public School, Sant Isher Singh Public School, Mohali Public School and Shastri Model School presented a march past at a function which was presided over by Mr M.L. Sharma, SDM. Students took part in various events like kabaddi, gatka and athletics.

The results:

100m race: Jaswinder Singh 1; Jatinder Singh 2 Lakhbir Singh 3. 200m: Harminder Singh 1; Vikas Kumar 2; Amandeep Singh 3. Long jump: Dalwinder Kumar 1; Harminder Singh 2; Nazar Singh 3. Shot put: Malkit Singh 1; Harinder Singh 2; Parwinder Singh 3.