In Her World today
THE TRIBUNE MAGAZINES
On alternate Mondays

On Sundays
On Saturdays
IN PASSING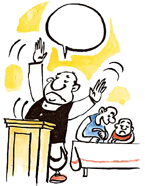 He is using sign language to avoid CEC's attention.

by Sandeep Joshi
GRAND FINALE TO EXTRAVAGANZA (Sports page)

Fireworks light up the night sky as the first Afro-Asian Games are declared closed at GMC Balayogi Stadium in Hyderabad on Saturday. — AFP
---

Daler Mehndi seeks regular bail
Patiala, November 1
Pop star Daler Mehndi filed an application for regular bail in the human trafficking case in a local court. Daler's advocates arrived at Sadar Police Station in the morning.
Will bajra procure votes for INLD in Rajasthan?
Chandigarh, November 1
If onion can influence the outcome of the Delhi Assembly elections, can coarse grain bajra lag behind. At least politicians think so.
One shot dead; curfew in Aligarh areas
Aligarh, November 1
One person was shot dead by unidentified persons on the outskirts of the city, near Charra Adda, this evening when he was on his way home to break his Ramzan fast, District Magistrate S.M. Bobde said.


51 years, and final burial still awaited
Qadian, November 1
A spot adjoining the tomb of Hazrat Mirza Ghulam Ahmad Qadiani, founder of the Ahmadiyya Jammat, has been lying vacant for the past more than half a century. The reason: the mortal remains of Behgm Nusrat Jehan, wife of the founder who died at Rabwah (Jhang district) in Pakistan in 1952, could not be brought to Qadian, courtesy Pakistan, where Ahmadiyyas are persecuted.

A spot beside the tomb of Hazrat Mirza Ghulam Ahmad Qadiani, founder of the Ahmadiyya Jammat, awaits the final burial of his wife who died in Pakistan in 1952.
— Photo by Rajiv Sharma
India scalp Pak for hockey gold
November 1, 2003

Kashmir-specific proposals rejected
October 31, 2003
Pak accepts proposals, but harps on Kashmir
October 30, 2003

1 dead, 37 hurt in Srinagar CTO blast
October 29, 2003

Series of explosions rock Baghdad, 37 dead
October 28, 2003

Pak response to peace moves by next week
October 27, 2003

Talks not at cost of unity, says Advani
October 25, 2003

Hurriyat cautious
October 24, 2003

Fresh move to improve ties with Pakistan
October 23, 2003

Govt raises ceiling on poll expenses
October 22, 2003