Home is where the hotel is !
Roshni Johar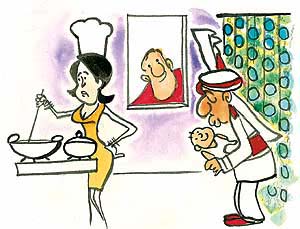 I was floating on cloud nine when I got engaged to Surinder, a hotelier. Oh! It seemed so blissfully romantic to live in snowy 'n' misty Shimla. But I should have prudently wiped my glasses to take a second look at him, rather at his profession. I hadn't bargained that by marrying him, I would plunge headlong into hoteliering. Well, it was a sheer case of marrying a hotelier and marrying his hotel too.
Just after marriage I was astonished when Surinder contentedly remarked, "It's good you have checked-in my room!" Later, I learnt that check-in, check-out, lodging, boarding, tariff, itinerary, housekeeping, front office, etc. was everyday hotel terminology.
The very concept of 'house' changed. My five-roomed residence (in the hotel) extended to forty-five hotel rooms. And my smart husband smugly transformed a housewife into a fusion of a secretary, housekeeper, public relations officer, interior decorator and chef. Often, I am mistaken for a doctor too while administering first aid.
Imagine instructing a bride on the difference between hotel, hospital and domestic beddings! In bridal attire, I checked rooms for clean linen, fresh flowers, leaking taps, fused bulbs, missing curtain rings and so on. I was taken aback when hubby dear said, "My dear, just run down to bazaar and buy 15 litres milk, 4 kg. cheese, one sack of potatoes, 10 kg. peas, etc." I was quick to memorise how many cups of tea, one litre of milk could provide, how many portions (i.e. plates) were there in one kilo peas, etc. I updated myself on housekeeping paraphernalia like different kinds of cleaning wipers and their multilocking systems, different fragrances in fresheners/pesticides as well as various excuses staff made when demanding leave. I kept pace with how much guests had progressed in damaging hotel carpets and tapestry and pilfering hotel linen. And to keep Dame Boredom at bay, I would be handed reservation charts!
Years have rolled by, but we still go to bed discussing the hotel's occupancy, waking up in mornings anxious to know the tanks' water level! Whenever the khans (Kashmiri coolies) carried hotel guests' luggage to the railway station, my little son would throw a tantrum, insisting upon accompanying him to see the rail engine. Invariably the poor coolie would be bent carrying suitcases on his back, with a toddler in his arms in front.
Riddles 'n' rhymes which I taught my kids, were all related to hoteliering. When I, Mother Hen, asked the roost: when are cooks most cruel? - they would correctly answer: "When they beat the eggs and whip the cream." Or sometimes: what did one barfi say to another? They would sing, "Why are you so khoya khoya these days?" Struggling to teach them maths, even simple addition sums would be: if I had ten bottle openers and gave away two to a waiter`85.! Teaching waiters, the five essentials in a pocket—a diary, a pen, a duster, a match box and an opener—is another story.
A hotel guest fills in a form before checking-in. It has a column: 'accompanied by.' A young chap wrote, "By my own wife" - as if others come with someone else's' wives! Another column asks: 'purpose of visit.' A guest had truthfully entered, "To buy potatoes." I was nonplussed till I learnt that the Gujarati farmer had come to buy truck loads of Himachal's seed potatoes.
Wanting to know whether a twin bed or a family suite would be required, I often enquire from potential guests, whether their children are accompanying them. "Kya bachche ghar chhod ke ayen?" they (Punjabi ones) invariably snap at me.
Tourists wish to know about Himachal including Shimla. Once wanting to impress a highly learned guest, I began, "Sir, you are standing on a Himalayan ridge which has risen from the bed of a pre-historic ocean, the Tethys." He was simply shocked! Of course, geographically it is correct.
The sizzler is cr`E8me de la cr`E8me of our cuisine. The sizzler's smoke would fizzle out by the time a waiter reached those rooms which are little far from the kitchen. But I found a way out —the caterer now runs fast with sizzler in hand, followed by a kitchen boy carrying a cube of chilled butter. He slips the butter on to a burning hot iron plate just outside the room, to create the sizzling sound 'n' smoke effect, and enters the room trying not to pant, saying calmly," Sir, your sizzler."
I never knew that chefs were called ustads like music and dance maestros.Our hotel was fully reserved for a large group when the hotel cook fell ill. This was a crisis. And I was the best substitute my husband could find. My problem was: who would baby-sit for my two-month old? Kulwant was our newly employed untrained waiter. Straight from a remote village, he couldn't differentiate between a cup and a mug. So being unfit for anything, the choice fell upon him and he dutifully held my babe-in-arms flat like a tray in one corner, while undisturbed Mom—the Queen in Kitchen—cooked gourmets' delights like dal makhni, koftas, kormas, etc. Indeed, the way to glory is through the gravy.
On another such crisis, I cooked for a South Indian VIP guest. I didn't want anyone to know about it. I had kept a small hair brush, a lipper and a compact in my apron's pocket. When stepping out of the kitchen, I would quickly touch myself up, trying to look unflustered. One night the VIP's wife stepped into the kitchen exclaiming, "The food's delicious. Tell me which curry powder you use?" I was taken aback. I gave her the recipe for garam masala used in Punjabi cuisine apart from some to take home down south. She sniffed it saying, "It will clear my mother-in-law's blocked nose too!"
An extremely rich guest's wife informed that her husband was missing from the room. He was found in another room sitting on a chair, lecturing on Napoleon Bonaparte in propah English, to a group of dumbfounded simple Marathi-speaking women and children from Nasik, seated on floor. Obviously he had had a peg too many.
Lend me your ear to a part of Girl Friday's routine. Room no.408 needs a paracetamol to get rid of his headache, room no.202 wants a hot water bag and not extra blanket, room no. 510 requests for an itinerary for Manali, room no.602 desires to know when it snows in Shimla, room no. 401 refuses to pay Luxury Tax while the Bombayite in room no.304 has put the heater under his quilt as he felt cold, thus burning the bedding and room no. 202 complains that monkeys are peeping at apples through window panes. And woe betides if there's a mix up!
Well, life is almost as sweet as honey though there are many bees in my bonnet. Undeniably the hotel has cemented our bonds. Marriage like old wine matures with time. And our goblet overflows.