M A I N N E W S
We'll test Pak sincerity, says PM
Tribune News Service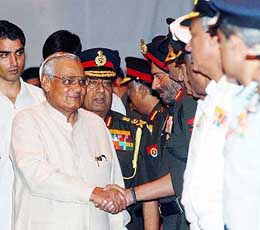 Prime Minister Atal Bihari Vajpayee with commanders before the Combined Commanders' Conference at South Block in New Delhi on Saturday. — PTI photo

In video (28k, 56k)


New Delhi, November 1
India today again gave indications to Pakistan to move away from the path of "permanent hostility" and accept the recent offers made by New Delhi with an open mind so that there was not only greater people-to-people contact but also all-round development.

Addressing a combined armed forces commanders' conference here, Prime Minister Atal Bihari Vajpayee, while furthering his peace initiative, made it clear that despite the new offers India would be ready for a meaningful dialogue only when the infrastructure of terrorism was dismantled.

He pointed out that his latest effort was aimed at "encouraging" those elements in Pakistan "who recognise the folly of permanent hostility towards India."

Stressing that India would continue to deal with cross-border terrorism firmly, Mr Vajpayee said India would gauge the sincerity in Islamabad's efforts to stop cross-border terrorism and to dismantle the infrastructure of terrorism.

Calling on the armed forces to evolve a comprehensive counter-terrorism doctrine by developing suitable capabilities of manpower and high-tech equipment, the Prime Minister said the Russian retreat from Afghanistan had released thousands of armed Mujahideen and jehadis whom Pakistan had redirected into Jammu and Kashmir.

Mr Vajpayee for the first time also referred to the boundary dispute with China and said "we should be willing to take some pragmatic decisions" to reach the strategic objective of final resolution of the boundary dispute.

Mr Vajpayee said the decision of the two governments to appoint Special representatives to discuss the boundary question from a political perspective was a particularly significant measure.

The Prime Minister also dismissed Pakistan's "implied claim" to Afghanistan as an expansion of its strategic space and pointed out that "we cannot accept it as in India's larger regional interests, including energy security, Afghanistan and Central Asia are of great importance to us."

He declared that despite all threats against its consulates in Kandahar and Jalalabad, economic assistance and other cooperation initiatives in Afghanistan would continue.

The Prime Minister said since the recent past, he had been stressing the need for developing technologies to counter actions of terrorists and insurgent groups. "This would also include weapons of mass destruction, terrorism and cyber-terrorism emanating from non-state actors."

Expressing concern over the activities of Maoist groups in Nepal, especially because of their links to ultra-Leftist groups in India, Mr Vajpayee stressed on devising innovative security measures to curb the mobility of Maoists and other insurgent groups across the Indo-Nepal border without inhibiting people-to-people and commercial traffic between the two countries.

On Iraq, he said the war in that country had opened up new post-Cold War divisions, with heated debates on the meaning and viability of a cooperative multi-polar world order.

Pointing out that India exploited the fluidity in the emerging World Order to forge new links with democratic societies on the basis of shared values, common objectives, convergent world view and a coalition against terrorism, the Prime Minister said the Pokhran

nuclear tests and the ambitious development programme showed India's determination to respond decisively to the security environment despite external pressures.

The Prime Minister said it was imperative to develop close synergy between security agencies, armed forces, diplomats and Finance, Commerce, Energy and other ministries as "in the globalised world of today, every strategy is inter-disciplinary."

"In the 21st century, war in whatever form can be won only through multiple levers of power," he said.

In his address, Deputy Prime Minister L.K. Advani said although the world view on terrorism had changed after the September 9 episode, yet it had not prevented "our adversaries from continuing with what they are doing."

He felt India had not made Pakistan to pay the price, which could deter it from taking up such misadventures again.

Defence Minister George Fernandes, in his address, emphasised the need for continuing of war against cross-border terrorism.