Pressing home the outsourcing advantage
Roopinder Singh
WHEN we think of business process outsourcing (BPO), our mind normally wanders off to the call centres and back-end offices of financial firms. However, the number of outsourcing possibilities is only restricted by one's imagination.
Diverting traffic to fake airline sites
Robert Evans
THE United Nations trademark and copyright agency WIPO revealed the existence of a raft of fake Web addresses which divert customers of airlines, hotels and car hire firms to a site selling cheap travel deals.
64-bit processor is ready. Are we?
O.P. Gupta & Kiran
APPLE has launched G5 system with a 64-bit processor. AMD has just released its Athlon 64 processor that has the support for the first 64-bit operating system (a variant of Linux). The 64-bit Itanium processor is Intel's first product in the IA64 family of processors. It is designed to address the needs of high performance applications and incorporates many leading-edge features specifically designed to address the ever-expanding needs for highest floating-point performance and large memory capabilities.
IT WIT
by Sandeep Joshi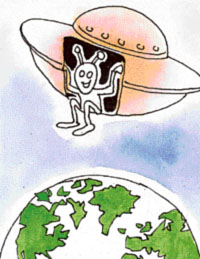 It's a small world. All addresses begin with www.


NIXI all set to operate from metros
Sachin Dhall
THE National Internet Exchange of India (NIXI) is likely to start its operations shortly. Initiated by the Internet Service Provider Association (ISPAT) and funded by the Department of Information Technology, NIXI is setting up Internet exchanges in four metros — Delhi, Mumbai, Chennai and Kolkata.

'Trakking' stolen cars in Karachi
David Brunnstrom
UNPLEASANT shock awaits car thieves in Karachi. With the click of a computer mouse, a satellite tracking system allows remote operators to seize control of the stolen vehicle, bring it grinding to a halt, and snap its locks shut as the police swoops in.

The dragonfly spy
Tabassum Zakaria
THE CIA once built a mechanical dragonfly to carry a listening device but found small gusts of wind knocked it off course so it was never used in a spy operation. The agency also tested a 24-inch-long rubber robot catfish named 'Charlie' capable of swimming inconspicuously among other fish and whose mission remains secret.
Block Net muck
Gurupbar Singh
CYBERSPACE is one of the modern frontiers in the world of communication sciences. The Internet offers unlimited opportunities for education, science, entertainment and business. Equally it has become a home for unstoppable pornography and illegal activities.
IT course craze dips
IT firms riding high on "spurt" in outsourcing software may be hiring techies in thousands, but in India's Silicon Valley, institutions offering computer courses are seeing a drastic dip in student admission. Students and parents, who have witnessed the technology meltdown in the last two years and its resultant dip in employment opportunities, are cautious of taking up IT courses. They prefer to opt for basic science or mainstream engineering courses, instead.