M A I N N E W S
3 killed, 40 hurt in Gujarat violence
Firing by ex-councillor after brawl at cricket match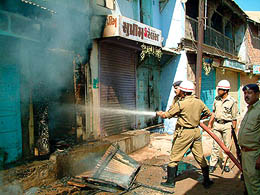 Firefighters hose down the flames after a fresh communal violence in Viramgam, Gujarat, on Sunday. — Reuters photo
Ahmedabad, November 2
Three persons were killed and 40 others injured when an ex-councillor allegedly opened fire at a mob after a local cricket match turned violent in Virangam town, 70 km from here, leading to communal clashes prompting the authorities to impose an indefinite curfew.
DIG Ahmedabad Range A.K. Sharma told PTI that the incident occurred when ex-councillor Purushottam Yadav allegedly opened fire at the mob.
Mr Yadav, who has been subsequently detained along with some others, allegedly fired from his licenced rifle, he said, adding a police complaint was being lodged in this connection.
According to sources at the V.S. Hospital here, three persons, mostly of the same family, were brought dead. While a youth reportedly died on the spot, two others succumbed to their injuries on way to the hospital.
Earlier, police sources had said four people were killed. The deceased were identified as Sharifbhai, Zakir Allarakha and Zakir Yusuf.
At least 40 persons, including three teenaged boys, are being treated at a private hospital in the Juhapura area.
The police had to fire at least 20 rounds to quell the rioting mobs that torched close to 12 shops in the Chand Fadi and Sheth Vaad areas.
Mr Sharma said the situation was completely under control at present and combing operations were on to arrest the trouble makers. He said that a detailed investigation of the incident would also be conducted.
Three of the youths who are being treated for shrapnel injuries at a private hospital in the Juhapura area here alleged that the ex-councillor and some others opened fire from his 12 bore rifle.
Mohammed Shoaib Abdul Kader (12), who received multiple shrapnel injuries and is being treated at the hospital in Juhapura, told PTI that youths were playing cricket in the area when trouble broke out and led to a heated discussion between Yadav and locals.
Kader alleged that Yadav opened fire from his 12 bore gun that left him and many others injured while Yadav's friends also opened fire from their private arms and injured others.
Police sources in V.S. Hospital said the condition of two persons was serious. The condition of another youth at Juhapura hospital was also reportedly serious. — PTI