M A I N N E W S
19 hacked, burnt in tea garden clash
Our Correspondent and PTI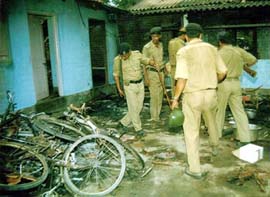 Policemen examine a residential house after 19 tea garden workers were burnt to death in Jalpaiguri on Thursday. — Reuters photo
Siliguri/Kolkata, November 6
Enraged tea garden workers today hacked to death 19 persons, including two women, and later burnt them at the house of a former CITU leader, following a dispute over recruitment of three outsiders at a tea estate in West Bengal's Jalpaiguri district.
IGP (Law and Order) Chayan Mukherjee, who had earlier said that 21 persons had been killed, said the confusion over the death figure arose because the bodies had been charred and badly mutilated.
The incident occurred in the Falakata police station area in Jalpaiguri district, bordering Coochbehar, this morning, he said. Nearly 60 persons went to the residence of former CITU leader Tarakeswar Lohar, demanding to know why locals were not being recruited to the posts of 'babus' (clerks) of the Dalgaon tea estate.
The situation turned ugly when shots were fired at the crowd from Lohar's residence, injuring tea garden worker Sonik Kachhua.
This infuriated the mob, which entered Lohar's house and hacked the people inside and later set the house on fire, killing all, Mr Mukherjee said.
Lohar, however, managed to escape, the IGP said, adding that his wife and three children were also safe as they had gone to school.
The IGP, North Bengal, Mr Bhupinder Singh, who was present at the site of the incident, also confirmed that Lohar had escaped and was arrested and questioned to ascertain the actual reason behind the incident.
"Once we have interrogated Lohar, identification of the culprits will be easier," Mr Mukherjee said.
The police arrested 106 persons, including 25 women, allegedly involved in the massacre.
The IGP said a loaded revolver and 72 choppers were seized from Lohar's residence.
Trouble had been brewing for some time after three 'garden babus', who were outsiders, were recruited.
The contention of the anti-Lohar camp was that there were educated youth in the garden, who could be appointed, Mr Bhupinder Sing added.
Commenting on the incident, Agriculture Minister and Forward Block leader Kamal Guha said that the incident was the fallout of a feud between two factions of CITU and a manifestation of the explosive situation prevailing in tea gardens of North Bengal.
"Tarakeswar Lohar had been recently removed from the post of union secretary by the CITU leadership. Those killed were in his house to ensure his security," he said.
The state Home Secretary, Mr A.K. Deb, told The Tribune a magisterial inquiry had been ordered into the unfortunate incident.
Since most of the senior CITU leaders were today at Agartala, attending an annual CITU conference there, none was available for comment.
The Chief Minister, Mr Buddhadeb Bhattacharjee, regretted the incident. Deeply worried, he asked Mr Ashok Bhattacharyya, the Municipal Minister, haling from North Bengal, and Mr Jogesh Burman, Forest Minister, a Jalpaiguri resident, to rush to the place. The DIG of Police, North Bengal, was also ordered to go to the area.
While describing the incident as 'terrible,' the Chief Minister, however, said he was not in a position to confirm whether it was a fallout of CITU's internal feud. "I do not have the details. I will be able to tell you in a couple of days."