Global vignette
Designer lifestyles
Barbara Lewis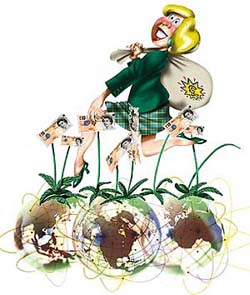 THEY call them the freedom years. They're the years when today's high-earning 20- and 30-something women jet-set around the world, run their own businesses and snap up pent-house apartments and fast cars, while their predecessors changed nappies and washed the dishes.
Volumes of research carried out in the United States and Europe have testified to the changing profile of women and their struggle to have it all. "Women's lives have changed beyond measure over the last 50 years," says Christian Jenner of the National Family and Parenting Institute (NFPI), a charity set up to enhance family life. "They are achieving more financial independence...and that can only be a good thing."
Market analysts Datamonitor analysed the demographics, income and spending of women in eight leading markets: Britain, France, Germany, Italy, the Netherlands, Spain, Sweden and the United States.
The findings confirmed that more women than ever have gone into tertiary education, entered high-earning careers, and delayed marriage and having children or stayed single. "Women are staying single for longer, with the result that for many women the 20s and early 30s have become the Freedom Years offering independence and self-sufficiency," the researchers concluded.
The implication is that women, increasingly, are a major consumer sector in their own right. "While marketers have always acknowledged women to be a powerful consumer force, this has been mainly due to their role as purchaser for the entire household. In recent years, however, women have become independent and confident consumers," summed up Datamonitor analyst, Andrew Russell.
In a separate report, Datamonitor found that Britain has more wealthy women than men, with almost 300,000 women owning at least `A3200,000 ($320,000) in cash, shares and bonds, compared with just 271,000 men. The NFPI's Jenner endorsed the view that women have always controlled the family purse strings and today, to a greater extent than in the past, they provide the contents of the purse. Much of the spending of the new superwomen is on themselves, not on families, as they invest in designer clothes, fast cars, foreign holidays and luxury homes.
Increasingly, Britain's inflated property market— an important barometer of spending power—is dominated by independent women in pursuit of glamorous bachelor-girl pads that are easy to maintain and easy to lock up and leave as they head off to check out another of the world's capitals.
In general, there has been a huge increase in the number of single homes in Britain, many of which belong to women. "There has been a colossal shift in the make-up of new housing to reflect the fact that more people are living alone," says Pierre Williams of the House Builders' Federation, a trade body. "There has been massive growth in building of flats."
A worrying aspect is the fact the modern woman's designer lifestyle leads her into some serious drinking. Eurocare, an alliance of agencies to tackle alcohol-related harm in Europe, estimates that 20 per cent of British women aged 16-24 are drinking more than 14 units of alcohol a week, compared to 11 per cent in the late 1980s. Could it be that their high-earning careers are driving them to drink?
Professional burnout and 'aspiration deficit'—or a feeling of being short-changed by hard-won careers, has been identified. It probably kicks in during the 30s.
Academics have pointed to high stress levels from an early age in girls compared with boys, who are protected by laddish culture and traditionally a more devil-may-care approach to life. Researchers found levels of 'psychological distress' among young women, especially from the middle-classes, had increased while those of the males surveyed in 1999 were about the same compared with those surveyed in 1987.
Factors responsible are the mounting pressure on girls to succeed academically, to be beautiful and to be thin. In 1999, a quarter of the females surveyed worried a lot about their looks, more than a third worried a lot about their weight and at the same time nearly half worried a lot about doing well at school.
The ambition to be both clever and attractive was particularly great among middle-class females, although women of other classes and also young men, bombarded by media images and peer-group pressure, could be catching up. Perhaps in the way of many trends, all this could be just a phase as women react against impossible expectations, count the price of their freedom years and a reaction sets in.
To quote Datamonitor again: "While younger women are highly 'aspirational' and believe they can have it all, women in their 30s and 40s find that they'd only be too happy to give some of it back. The perceived pressure on women to be not only a wife and a mother but also a successful professional, one of the girls, and a fulfilled individual is becoming too great."
The National Family and Parenting Institute wants to ensure flexible working hours and increase the amount of good-quality childcare. "We campaign on the whole work-life balance platform. People should be given flexible working hours as a right," says Jenner. "We (in Britain) work the longest hours in Europe."
Taking a different angle on the dilemma, Datamonitor predicted that in future, women might be happy not to meet every demand 100 per cent and to settle perhaps for 70 per cent.
In any case, all those women who spend their 20s and 30s enjoying their independence and delaying having a baby until the last possible moment, could be aged in their 50s before they find their freedom again.