M A I N N E W S
Swiss President likely to take up diplomat rape case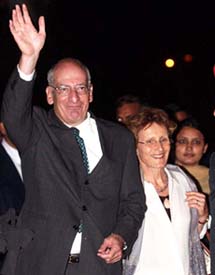 Swiss President Pascal Couchepin along with his wife at IGI Airport in New Delhi on Sunday. — PTI
New Delhi, November 9
Swiss President Pascal Couchepin may seek details of the progress in the last month's Swiss diplomat rape case in the Capital during his talks with Indian leaders here tomorrow.
The Swiss President, accompanied by a high-level delegation, will hold extensive talks on bilateral and international issues with Prime Minister Atal Bihari Vajpayee, followed by the signing of two agreements between the two countries. The accords are for cooperation in disaster management and science and technology.
India is attaching significance to the visit in view of the increasing interaction between the two countries. The last presidential visit to India from Switzerland was by Mr Flavio Cotti in 1998. The Swiss President is on a week-long visit to the country.
He has already visited Bangalore, Hyderabad, Chennai and Mahabalipuram. He will leave New Delhi for Mumbai on Tuesday.
The Swiss President will also call on President A.P.J. Abdul Kalam and have meetings with Vice-President Bhairon Singh Shekhawat, Deputy Prime Minister L.K. Advani and External Affairs Minister Yashwant Sinha.
The President will host a banquet in honour of the visiting dignitary tomorrow.
During the parleys, he may raise the issue of the rape of the 36-year-old Swiss diplomat in the heart of the Capital as she was leaving the Siri Fort auditorium, the venue of the International Film Festival, in her car after watching a late night show on October 14. She was abducted by two youths and sexually assaulted in the vehicle, sending shock waves in the Capital.
The diplomat, who headed the visa section in the Swiss Embassy, has since left this country.
The Delhi police has been under tremendous pressure to bring the culprits to book but the investigations have not made much headway so far. The Deputy Prime Minister has already stated that the diplomat's rape has brought disrepute to the country.
The Swiss President will also have interactive sessions with the CII and the FICCI with the focus on potential for cooperation in science and technology and IT. — UNI