SCHOOL BUZZ
A potpourri of song and dance shows
Smriti Kak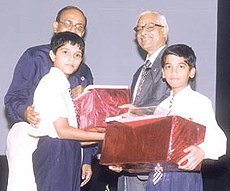 Gaurav and Suryakanth, representing Kendriya Vidyalaya-Anta, receiving the first prize.
The annual three-day children's function organised by Kamlesh Shashtri, District Child Welfare Officer, Faridabad, and R.B. Rohilla, Program Officer, was held between November 4 and 6, at Bal Bhawan Palwal under the aegis of Haryana State Child Welfare Council, Faridabad.
The event was inaugurated by Ms Neerja Malik, Chairman, District Child Welfare Council Officer, Faridabad, with lighting of the lamp. Among those present were Trilok Chand Gupta (Retd.), B.E.O.
Approximately 400 students from various schools participated in the events aimed at teaching them patience, presence of mind, team spirit, discipline and bring about all-round development.
Vipul Gupta, Kavita Sharma, Isha stood first, second and third in the writing competition for group I to VI classes, in the group VI to IX classes, Rahul Sharma, Sanjana Vashishsth, Inderjit, won the top prizes while in the group X to XII classes the prizes went to Kajal Aggarwal, Sonam Tewatia and Manish.
In the drawing painting competition, Meenakshi, Saourv Mittal and Komal Kapoor were adjudged first, second and third in group I to VI and in the group for VI to IX, Karan Arora, Lalit Kumar and Lal Chand Tewatia were the prize winners.
In the folk song category, the prizes in the group VI to IX were bagged by Karan Arora, Kanika and Ekta, in the senior group Nidhi Sehrawat and Braham Dutt were the winners. In the Junior Group Dance, Saraswati Sen, Sec. School, Palwal and DAV School Palwal stood first and second and in the Senior Group Dance, Saraswati Sen. Sec. School, Palwal and Green Wood Sen. Sec. School, Palwal won the prizes.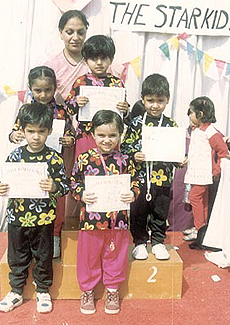 Little Balloons Nursery schoolkids with their prizes.
In the Fancy Dress category, the top prizes were won by Deep Chand Sharma, Tinkle and Jitender. In the second category, the prizes went to Kanchan, Narender and Ila, while in the senior group Shubhkit, Kishan and Gulshan were the winners.

Sports day
Little Balloons Nursery School, Kohat Enclave, Pitampura organised the sports day. Students participated in various events, including spoon and lemon race, sack race and drill.
Dressed in colourful costumes, the children put their best to win the races. Giving away the prizes to the students, the Principal, Ms L. Riar, spoke on the need to encourage children to participate in various activities including sports for their all-round development.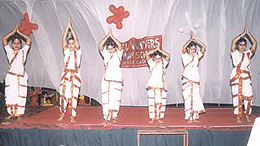 Small Wonder students presenting a cultural show.
Small Wonder
Small Wonder play school organised a cultural show. Dressed in their colourful bright, the children participated in various events including dance and singing. There was also a presentation by children on animals and plants, with some children even dressed as elephants.
School quiz
The National Finals of the All NTPC school quiz, titled, 'Medha Pratiyogita 2003', saw quiz master Derek O'Brien hurl bouncers at the teams from over 50 schools located in 20 NTPC projects. The final round has both audio video clips as well as oral questions.
Anta and Unchahar project came first and second in the junior level, while Korba and Talcher were first and second in the middle level. In the senior level, the first two positions were bagged by Tanda and Corporate Centre. CMD, NTPC, Mr C. P. Jain, and Director, HR, K. K. Sinha, gave away the prizes.
Nurturing Tomorrow
SOS Children's Village announced the launch of 'SOS CVI Nurturing Tomorrow 2003', a unique concept aimed at providing direct and indirect care to more than two lakh children.
The event will entail four workshops in association with the Clowns R US, a leading theatre production house. The workshops will provide a forum for country's leading rights from different spheres to interact with children from SOS CVI villages and help them realise their talents and aspirations.
Techno talent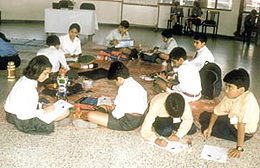 Students participating in Technotalent.
As many as 150 students from over 20 schools participated in the first ever TechnoTalent organised in Sanskriti School by San Francisco-based FutureSchools that promotes a holistic approach to teaching Information and Communications Technology (ICT).
Organised alongside was 'Futurecast' a workshop for teachers of these schools to use ICT in teaching Arts, Science and Social Studies. The award winners will be announced at a special function later this month.