ZEROING IN ON...
A gifted singer, composer
Dharam Pal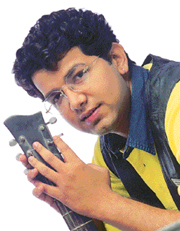 Avadhoot Gupte
It takes talent to spot talent and nurture it to a form that can express itself in all its glory. Sagarika Music has done it again. After bringing singer Vaishali Samant of the Aika Dajiba fame to the forefront, Sagarika Music has discovered composer-turned-singer Avadhoot Gupte.
Avadhoot has come out with his debut album Meri Madhubala..., an album loaded with eight tracks, composed, written and sung by him.
This Mumbai-based artiste could not have chosen a more appropriate song for his debut album. Tujhe Dekh Ke Meri Madhubala, Mera Man Ye Pagal Zala is what you feel the moment you hear the latest entrant in the Indi-pop scene. The music video of the song has been directed by Sanjay Chhel, the writer of films like Rangeela, Yes Boss and director of Sanjay Dutt-starrer Khoobsurat. The video features Farhaan Khan and Aarti Chhabria. All the songs have been rendered beautifully by Avadhoot.
Avadhoot has already struck platinum as music director of the album Aika Dajiba. The album was not only composed by him but five of the eight songs were also written by him. This talented composer-cum-singer had actually started off as a sound recordist.
His career as a sound recordist came to an early end when his compositions started gaining recognition. Avadhoot has also composed jingles, TV serial titles, corporate themes and background scores for feature films.
Sagarika Music launched him as a singer-cum-composer in Marathi album Paus. Then came the Indi-pop album Aika Dajiba for debutante female singer Vaishali Samant, better known as the queen of remixes.
Avadhoot's career as a singer took off hen he won the national level competition of TVS Saregama. Since then he has lent his voice to Hindi and Marathi songs. Avadhoot is also a good arranger and has proved his mettle in soft instrumental numbers and remixes.