Beyond the boundary
Rumina Sethi
Mirrors and Gestures: Conversations with Women Dancers.
by C. S. Lakshmi, Kali for Women, New Delhi. Pages 472. Rs. 400.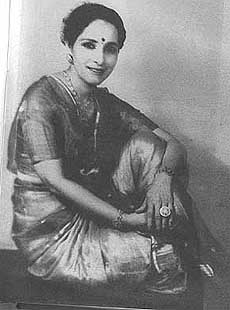 Creativity and family life is the subject of this riveting book about women dancers and their passionate involvement with their art. By bringing out this book, the publishers have shown that their interest lies not only in books about political empowerment or the subversion of male discourse but equally in accounts which reconcile art with everyday living. As C. S. Lakshmi, the author, says, she did not want to create a "ghetto of the feminine" or a "counter-culture of matriarchal aesthetics" but a narrative about the interaction between art and life, how everyday activities of women managed to keep art alive, and what resolutions and alternatives were the result of pursuing their ideal. Such a narrative would contain an organic living, not an assembly of ruptures but "a history touched by the flow of their lives" as indeed it does.
Lakshmi, or "Ambai" as she is largely known to her readers of Tamil fiction, has produced a rare collection of oral histories of women dancers with appropriate photographs illustrating their lives. Age being no bar, she interviews dancers and folk artistes from the ages of 20 to 83: Sita Pooviah, Maya Rao, the Jhaveri sisters, Indrani Rahman, Zohra Segal and many others who were willing to talk are included in the collection.
Lakshmi met these artistes at their homes, informally, over lunch or tea, shared their innermost thoughts and the photographic and archival contents of their old trunks and albums, saw them transformed in delight and reminiscence as they recounted their eventful lives sadly or joyfully.
The oral histories that Lakshmi has put together raise provocative issues and themes: do women artistes receive the honour men of similar professions tend to have? E. Krishna Iyer, who is believed to have revived and given "respectability" to the sadir or dasiattam, commonly known as Bharatanatyam, insisted that dancers had to be "cultured" and "modest". He maintains this perhaps because he could never dissociate the dance form from its traditional performers, the devadasis. Gangubai Hangal once said, "If a male musician is a Muslim, he becomes an Ustad, if a Hindu he is a Pandit. But women like Kesarbai and Mogubai remain just Bais."
Among the many themes that these interviews highlight is religious restriction exemplified best through Zohra Segal who is primarily known as a theatre actress. Zohra's story moves from life in strict purdah to becoming Uday Shankar's student after three years of learning dancing in Germany. Of course, she first showed her rebellion by cutting her silk burqa and making petticoats out of it. She had refused to get married to any of her Muslim cousins while at home. Later, with the help of an uncle, she set off abroad. Zohra realised that acting was her first love when she went to Bombay and joined Prithviraj's theatre. But she never abandoned her dancing: in her interview, she speaks of the eve of India's independence when she danced barefoot along the streets of Bombay while Raj Kapoor played the drums, an event her Hindu husband could not reconcile with.