Read this before donning the apron for first time!
Gitanjali Sharma
The First-time Cookbook
by Janet and Sayeed Rizvi. HarperCollins. Pages 297. Rs 295.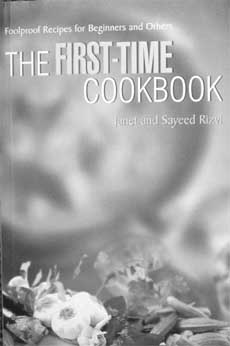 Are you a greenhorn when it comes to cooking? Does the very thought of fixing up a meal unnerve you? Do you wish you could call friends home for a meal under your own steam, without depending on home delivery or imploring your mother? Are you comfortable with rustling up a simple meal but unsure about preparing a more elaborate fare?
If you have shamefacedly or even unabashedly answered yes to any one of these posers, but are game for wielding a wok then you can allow this first-time cook book to be your navigator for swishing up some mouth-watering and hurdle-free meals.
The writers, Sayeed Rizvi, a former J&K Government official, and his wife Janet, a historian and freelancer, have dished out some 250 recipes, most of which are everyday vegetarian and non-vegetarian fare. But in order to not allow the already-reluctant cook's interest wane with the plain dal-roti meals, there's a sprinkling of exotica too. A videshi section brings about 20-odd recipes from Europe and West Asia like chicken fricassee, Irish stew, Spaghetti Bolognese, jellied chicken, Tunisian meat casserole with apricots, etc. All in all, there's a varied fare to keep the taste buds tingling.
A novice cook is likely to be put at ease by the reassuring and encouraging tone adopted by the Rizvis, who themselves admit that they picked up the fine nuances of cooking only after Sayeed's retirement a couple of years ago. While at no point sounding intimidating, they clarify at the outset that their recipes should be merely treated as guidelines to be followed till the readers acquire enough interest and confidence to branch out on their own. They astutely assert that a beginner would "probably want to follow the recipes closely`85 and sometimes your experiments will work, sometimes they won't but it is not by following our suggestions slavishly that you're going to learn cooking; it is by trial and error`85." And sure enough you see it for yourself that the recipes leave you enough room for experimentation, as below each recipe they offer variations by suggesting other materials and substitutes that can be used.
The First-Time Cookbook, as its name suggests, seriously adheres to the assumption that you are donning the apron for the first time. So don't lose your patience as you get briefed at length about seemingly simple kitchen chores like picking the rice or setting the curd or rolling the chapatti and then "laying it flat" on a pre-heated tava.