War through a child's eyes
M.L. Raina
Persepolis: The Story of a Childhood
by Marjane Satrapi. Translated from the French by Mattias Ripa and Blake Ferris. Pantheon, New York. Pages 117. $17.95.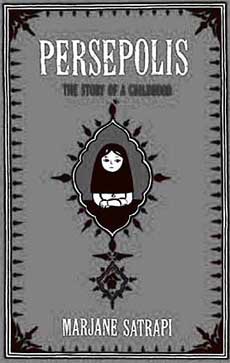 Two faces of Iran loom over the American consciousness at present. One personifies the 'axis of evil' that calls forth the self-righteous anger of the government. The other is that of a vibrant society, prolific in literature and the cinematic arts, an Iran struggling against religious fanaticism, yet mocking Bush's fulminations. Three women representing this new face are currently drawing praise from the more enlightened sections of the American intellectual life even as the government continues to demonise the country.
They are Samira Makhmalbaf, the 23-year-old filmmaker whose Blackboards is playing to record audiences; Azar Nafisi, the academic, whose Reading Lolita in Tehran is a runaway bestseller and Marjane Satrapi, the author of a captivating memoir written in a booming post-modern literary genre, the comic- strip autobiography. Whereas Nafisi and Satrapi live in exile in America and France, Makhmalbaf, daughter of the veteran director Mohsen Makhmalbaf, continues working in Iran.
Persepolis is a memoir with a difference. For one, it is not written in the form of a narrative. It is a collection of comic-strip drawings, all in sharp contrasting strokes of black on white with captions presenting a continuing story.
As in cartoons generally, these pen-strokes accentuate the humour of the images, particularly if the humor is grim and forbidding, as it is in this memoir. Its grimness derives from the experiences of the narrator, a little girl Marji, through whose eyes the political and religious turmoil of the recent Iranian history is presented. Her restless questioning eyes are drawn in bulging flourishes so as to always keep her in our sight.
Cartoon strips are the most economical and forceful mode of presenting experiences too hurtful for verbal expression. They have the added advantage of reaching across different levels of readership and registering a broad range of responses. Besides, it can state without really explaining. It can reduce or enhance the visual impact by simply altering line and emphasis.