Flavours from a Bengali rasoi
Malabika Sen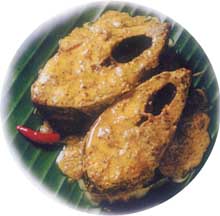 Cooking and serving fish is a ritual in most Bengali homes
Bengali food is not just about a thali of rice or bowl of fish. Food is an important part of Bengali culture and a leisurely meal of many items, which requires long hours of labour and ingenuity in the kitchen tells an interesting tale of the lifestyle of the Bengalis. Fish, of course, is the main course and a meal without it is just unthinkable.
But the most interesting part of meal is the way it is served. The traditional way of serving food is on the floor, where individual pieces of carpet called asanas are spread for each person to sit on. The meal is served on a large platter made of bell metal or steel or, if one goes into the interiors of Bengal, on a banana leaf.
Eating is almost a ritual here. Around the platter, a number of small metal or earthen bowls are arranged in which a portion of dal, vegetables, fish curry, meat, chutney and dessert are served. In the centre of the platter sits a small mould of piping hot rice flanked by some fried vegetables, a wedge of lime, a whole green chilli and salt. A little hole is made to pour in a spoonful of ghee to flavour the initial mouthfuls of rice.
The eating ritual follows a regular course. It starts with something bitter called a shukto or bhaja made from bitter gourd. Next comes the rice served with dal and fried potatoes or aubergine or pumpkin. This is followed by tarkari, a seasonal vegetable preparation with gravy. Then comes the fish or macher jhol. Sometimes, depending on the occasion or the status, there may be two varieties. This is followed by mangsho or mutton curry along with chutney or ambol. Lastly comes the dessert, which could be the mishti doi or sweet yogurt and a sweet like the famous Bengali rossogolla. Finally, to help the well-stuffed Bengali stomach in the process of digestion comes the paan. This is what makes an ideal sumptuous Bengali lunch or dinner!
Eating with hand is an accepted table manner here. for they believe that apart from its functional aspect, the fingers provide an awareness to the texture as the food is individually dealt with.Another peculiar habit that never ceases to amaze non Bengalis is the accumulation of remnants. Practically everything right from succulent vegetable stalks to fish bones, heads, meat and chicken bones are meticulously chewed and ground out of its juices.