IN THE SPOTLIGHT
Encounter extraordinary
Amitabh Dayal, the newest kid on the block, makes his debut in KagaaróLiving On The Edge directed by N. Chandra. His namesake, the Big B, is his idol and inspiration, Dayal tells Vickey Lalwani.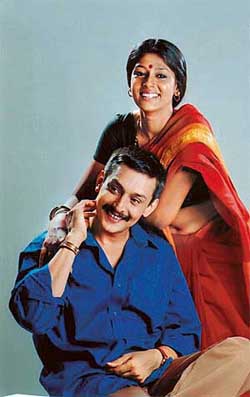 In Kagaar..., Amitabh Dayal explores the psyche of a cop who specialises in encounters. Nandita Das plays his wife.
Amitabh Dayal was named after Bachchan because his mother saw the film Anand when she was a mother-to-be and Amitabh became her favourite.
Excerpts from an interview:
Did you always want to become an actor?
Yes. Ever since I was in school, I was inspired, sorry, mesmerised by Bachchan.
We hear that you often go to meet Bachchan.
It was in 1993 that I waylaid Amitji at the Taj in Mumbai and told him I was named after him and that I wanted to be an actor. I vividly recall that meeting. I was dressed in a black shirt, had long hair and was wearing a bandana, I showed off a cocky stylishness and when he looked me up and down, I realised what kind of an image I must have been presenting. He gave me a long, apprising look and said, "Okay, come tomorrow (to his house)". I replied, "Who will allow me into your house, there is so much security?" He said, "No, no give me a call and come." I called him the next day and he invited me over to ABCL. After that started a series of meetings with him. I went to his house too and was invited to his Holi parties and have had the privilege of playing Holi with him there.
And?
Each time we spoke or met, he'd find out where I had reached in my search for work. I used to tell him that I was trying and he would reply, "It is essential to work, otherwise you will start feeling depressed." Then I did not meet him for some years. I felt shy that he'd enquire whether I had found work and what could I say? After I signed KagaaróLiving On The Edge, I again went to meet him.
How did Kagaar`85 actually happen?
Producer Mrunalini saw me acting in a play and offered me the role. Director N. Chandra tried me out and took the final call. It was not a typical film script. I had to literally live the character of an encounter specialist.
What is the film about?
What are the emotions of a cop when he confronts a dreaded criminal? How does an encounter specialist balance his family responsibilities and the call of the duty? These are some of the questions sought to be answered by Kagaar`85, which looks at the hitherto unexplored avenues of the personal life and mindset of a cop.