Sabse Alag goes the punchline of SAB TV, but the question is ó how is it sabse alag? The channel keeps saying itís different but it just canít walk its talk.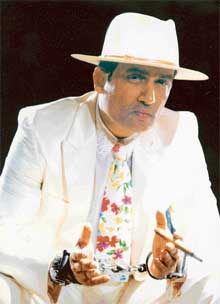 Suman on Carry on Shekhar: Another talkathon
Now in a bid to boost viewership it has recalled Shekhar Suman for Carry On Shekhar Mondays to Thursdays at 10 p.m. But once again its back to the beaten track as the show is nothing but an extension of Movers and Shakers on Sony.
The only alag thing about the show is that itís being served fresh and is being aired the same day it is shot.
The channel is hoping Shekhar will carry the viewers with him. And the star has hired a battery of humour writers to give a freshness to the show.
The concept of the original Movers and Shakers on Sony was adapted by Zee as Simply Shekhar and now it has shifted to Sab TV as Carry On Shekhar. The star is candid when he says, "It has become a Ďtravelling showí ó going from one channel to another!"
Face-off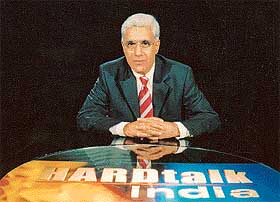 Thapar on Hard Talk India: Talking tough
Itís hard to beat an original. Think about Hard Talk and the first image that strikes your mind is that of Tim Sebestian the host who loves grilling the sweat out of people.
Now BBC World has given the show an Indian twist with Hard Talk India. The new series is being aired every Fridays at 10 p.m. Presenter Karan Thapar talks tough with well-known faces ó mostly politicians.
The guests have included people like L.K. Advani, George Fernandes, Sharad Pawar, Yashwant Sinha, Jaipal Reddy and more who face Karanís fire.
Given the heady mix of politics and Karanís acerbic style of anchoring, the show should have been riveting. But the trouble is Thapar also hosts Face to Face on the same channel which is a sugary celebrity show. So itís all-smiles on one show and breathing fire in the next. A trick mirror effect indeed!
ĎVí are on a song
Channel (V) largely perceived as a shadow of big brother MTV, has upset the music cart. It has emerged as the channel of choice for Gen-E. According to TAM Media Research data over four weeks in September and October, it is way ahead of its rivals.
Media observers are not surprised at the development and credit programmes like Popstars 2, Panga and Goddess that hold appeal for the youth. Says head honcho, Amar K. Deb, "We are planning many more big-ticket shows in the coming months."
In the period, the channelís eyeball share rose to 37 percent as compared to MTVís 31 per cent, B4Uís 17 per cent and Zee Music came in last at 15 per cent. MTV saw a steep decline from 39 per cent in last week of August to 29 per cent in first week of September.
Channel (V) gained immensely from Popstar 2 as a staggering 5.8 million viewers tuned in to the simulcast of the inaugural episode. Though the development of the Popstars has come at an exorbitant cost, the channel is on a song as the results start rolling in.