ULTA-PULTA
A royal study tour
Jaspal Bhatti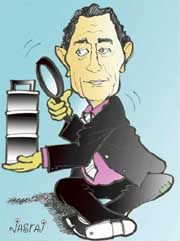 Prince Charles came all the way from England to meet the dabbawalas in Mumbai.He preferred to meet dabbawalas than to see Aishwarya Rai, Yash Chopra or Hrithik Roshan. Those who believe in the theory of reincarnation are wondering whether the Prince himself was a deliveryman in his last birth.
Another reason could be that the Prince prefers home made food to fast food.He thinks that if the dabba system is started in UK, the quality of the work in offices can be improved. But this reason can be ruled out as women in UK have no time to pack lunch boxes for their working husbands.
The third reason that one read in the newspapers was that the Prince was very impressed by the dabba management. The heir to the British throne wanted to study how they manage the mind boggling task of packing and delivering 1.75 lakh tiffin boxes every day.