Punjab cries for Bt cotton
K.S. Chawla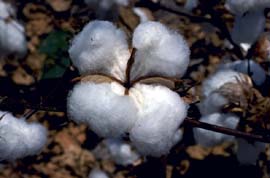 BT cotton is not being released in the Punjab circle, comprising Punjab, Haryana and Rajasthan, while the cotton growers of these states are hankering after it.
These farmers are liable to be cheated if certified BT cotton seed is not made available to them, warn experts at Punjab Agricultural University (PAU), Ludhiana, and officials in the Punjab Government. The central and southern zones of the country already have this seed available.
Trials conducted by PAU on certain Bt cotton varieties have found them free of cotton leaf curl virus (CLCV) and it can be released in the Punjab circle.
However, the Indian Council of Agricultural Research (ICAR) is insisting on conducting trials for another year. Bt cotton hybrids were released in central and southern zones after two-year trials. The Punjab Government has urged the Central government that the same method should be adopted for this circle, failing which farmers could end up buying fake seed from unscrupulous traders.
The cotton breeders at PAU are of the view that Punjab is well on its way to restore the lost glory of the "white gold" as the cotton production this year has been very good.
There has been an increase of 30 or 50 per cent in certain cases. The total production in Punjab is expected to be more than 14 lakh bales as against 8 lakh last year. The quality has also been very good. The cost of production, too, was low because of good weather and pest management.
Dr G.S. Chahal, in charge of the cotton programme, and Dr Joginder Singh, head of the Department of Entomolgy, PAU, explain that eight Bt hybrids — RCH 134, RCH 138, RCH 317, Ankur 651, Ankur 222, Ankur 2534, MRC 6301 and RCH 6034 — have been tested at Faridkot and Ludhiana this year and found fit for cultivation. They claim the trials were conducted according to the schedule of the ICAR.
Dr B.C. Gupta, Financial Commissioner (Development), Punjab, in a letter to the Central government has emphasised that the state is serious about reviving cotton in Punjab, citing this year's good crop. Making a demand for Bt cotton seed, Dr Gupta has warned: "The availability of Bt cotton in India, coupled with the enthusiasm of Punjab farmers, is sure to end up in the exploitation of farmers by unscrupulous traders on a massive scale. It is in this context the ICAR is being approached to support the Punjab Government in its endeavour to save cotton as well as its growers."
He has mentioned the trial of Bt cotton hybrids conducted during 2002 as per the guidelines of the Department of Biotechnology, Ministry of Science and Technology, at the Faridkot research station of PAU. Two entries of Bt cotton — RCH 314 and RCH 138 — were found to be resistant to CLCV disease. Both gave 103 to 132 per cent higher yield over the control non-Bt hybrids. Bt hybrids were not sprayed for bollworm control, whereas the non-Bt hybrids were given four sprays for bollworm. These two hybrids, along with six other hybrids of Bt cotton, are again being tested in the north zone by the ICAR during the current season.
Under the existing procedure of testing, first by the GEAC and then by the ICAR, at least a few of these BT hybrids are expected to be recommended for cultivation in Punjab.
Opposing any change in the testing procedure, Dr Gupta has pointed out that if the ICAR conducts tests for two years, no Bt cotton would be available in Punjab even for the next crop season, which would be detrimental to the interest of cotton growers.
Dr Chahal and Dr Joginder Singh maintain that the tested Bt hybrids are fit for cultivation and the ICAR should not delay their release.
Cotton production had touched an all-time high of 26 lakh bales in 1991-92, and this could be achieved again if canal water is made available from April 15 and quality seed and insecticides are made available to the growers, they say.