It comes, it performs, it melts away
Peeyush Agnihotri
AT a serious level, the Net has changed the way business and communication is conducted. For the young, it is another way to express themselves and indulge in some collective antics. The latest mania that has gripped young Netizens worldwide, India included, is mail amongst their group on where and when to meet. The latest mania that has gripped young Netizens worldwide, India included, is mail amongst their group on where and when to meet.

Put on your memory glasses
IF you are too busy or too old to remember, new devices called memory glasses - that subtly transmit data to wearers through heads-up displays - might help, reports UPI. "Just about anyone could benefit from this system, particularly busy persons who need a huge amount of specialised information at their fingertips, but canít afford to be distracted by conventional memory aids," Rich DeVaul, a researcher at the Massachusetts Institute of Technology (MIT) in Boston said.
Biology & electronics converge
Deepak Bagai
BIOINFORMATICS is an integration of mathematical, statistical and computer methods to analyse biological, biochemical and biophysical data. It is the science of developing computer databases and algorithms for the purpose of speeding up and enhancing biological research. The terms bioinformatics and computational biology are interchangable.
IT WIT
by Sandeep Joshi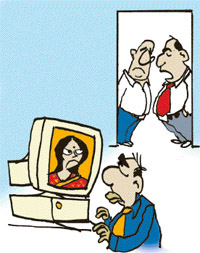 I donít know which software he uses? At 5 pm his wifeís image pops up reminding him to go home.

JEMS for gems
Fakir Balaji
A Dubai-based leading IT solutions provider has entered the Indian market with a software product for the domestic multi-billion-rupee jewellery market. Topline Technologies has unveiled the Jewellery Management System software in India that aims to help jewellery industry to streamline their business and improve customer services.

Microsoft at your Voice Command
David Brunnstrom
MICROSOFT has begun selling new voice control software that allows cellphone and handheld computer users to control most functions of their devices by voice, reports Xinhua. The new software called Voice Command will be sold as an add-on for the Windows Mobile Pocket PC software for handheld computers and the Pocket PC version of mobile phones, said Microsoft.

The Intranet and Extranet
Priti Trikha
SAME technologies that are used to create publicly accessible Websites can be used to create an Intranet (an internal Website for communication and collaboration among employees) or Extranet (a secure external Website for communicating with vendors, buyers, or partners).
Donít wear Intel outside
GARMENT makers in the Indian capital have been barred from manufacturing and selling clothing bearing the Pentium logo and brand name. US-based Intel Corporation sued some small-time garment manufacturers in east Delhiís Gandhi Nagar area, which has a large textile market, from using its Pentium logo and brand name on their T-shirts. A permanent injunction was sought against the manufacture and sale of such T-shirts.
Predicting clientís behaviour through data mining
Jaspreet Bedi
DATA analysis is the heart of software development process. Its purpose is to discover previously unknown data characteristics, relationships, dependencies, or trends, which become base for the information framework on which decisions are built. Data analysis tool relies fully on the end users for problem recognition. It becomes quite complex if the end user fails to state the problem appropriately.
Spam erodes usersí faith
BILLIONS of Ďspamí messages that cross the Internet daily are beginning to erode usersí faith in e-mail communications, according to a report. Half of all Internet users say spam has made them less trusting of all e-mail in general, the Pew Internet and American Life Project found, while one in four say they now use e-mail less because of spam.