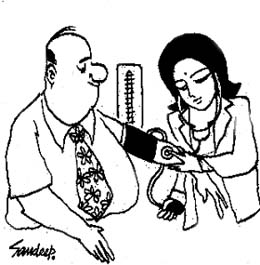 CAN a patient of hypertension (blood pressure) be treated without drugs?
Yes. Various national and international bodies, including the World Health Organisation (WHO), have recommended controlling and preventing hypertension by non-drug therapy. A study published in the Journal of the Association of Physicians of India emphasised the role of family physicians for explaining non-drug measures to the patients, howsoever busy they may be.
What are non-drug measures?
Salt in diet: It is an old discovery and universal truth that reduction of dietary sodium chloride salt lowers the blood pressure levels. The best would be to take minimum possible salt in one cooked vegetable only. It may not be used on salad, curd, etc. A word of caution: it is often seen people restricting salt during lunch and dinner or breakfast but taking a lot a spicy food articles in between. The quality of food may differ from state to state or country to country. In northern India, for example, people take pickles, chutney, papad, salted nuts, salted dal, bhujiya, samosa, kachori, chips, burger. Their restriction is a must so that dietary salt may not exceed the required amount and increase the blood pressure level. It may be noted that canned food contains more salt. Other food articles containing salt that needs to be cut down may be listed thus: chaat masala, other various namkeen snacks, mixtures, salted butter, processed cheese, salad dressings, etc. Fast foods and antacids containing salts may only be taken sparingly.
Main aim is that minimum possible salt may be used without making the food tasteless. Once you start taking less salt, in due course, you will become so used to it that you may better like foods with less salt. You may make your food tasty by moderately using spices, garlic, lemon, hari and pahari mirch, adrak, etc. It is a matter of one's own. choice and above all suitability. Potassium salt can also be substituted for conventional salt.
Potassium: Addition of potassium in the diet helps lowering of blood pressure levels. Therefore, it would be advisable to take especially fruits that contain more potassium like orange, malta, mousmi, kinu — citrus fruits. Potassium is also greater in bananas. However, one must look up his or her blood sugar levels before taking very sweet fruits containing potassium. You have to be careful while you are taking additional potassium in your diet. It is not recommended in kidney dysfunction. If someone is on ACE inhibitors or angiotensive receotor blocker antihypertensive drugs, potassium supplement is not indicated. In contrast to taking of low sodium salt, addition of potassium needs careful and full consideration.
Diet in general: Vegetables cooked or as salad are preferred. Non-vegetarian diet should be minimised. Fruits are equally good. Use the least possible polyunsaturated oils, available freely in the market, for cooking. Oils and fats contain almost double the calories as compared to other food articles. One need to consult his or her family doctor for the calories required which vary from individual to individual depending upon his or her nature of work. A laborious job shall certainly require more calories. Calorie reckoners are readily available. Dietary fibres help. For example, take bran along with flour. Likewise, whole cereals should be preferred. Dalia for breakfast can be taken.
Exercise: It is also an old dictum that exercise lowers blood pressure levels. Depending upon one's health status, exercise must be undertaken. Simple walking that needs to be enough brisk, again keeping in view one's health condition, particularly the heart involvement, if any, would serve the purposes. 30-40 minutes' walk daily is the prescribed one. There are other good exercises as well like jogging, running, etc. The young can also adopt some games. One needs to consult his or her physician. Physical exercise even prevents the onset of high blood pressure. It is an important part of the non-drug treatment of high blood pressure.
Vigorous exercise, especially sudden one, that too after the age of 40-50 years, needs to be taken with utmost caution and may even prove harmful or fatal in some of the cases.
Sex is an important exercise. It can be a dynamic or a static exercise. It may even be a psychological exercise, but it does not seem to be an intellectual exercise. Irrespective of the type of exercise, the blood pressure rises considerably while performing intercourse. It is important to be aware of it. Those who are suffering from high blood pressure may, therefore, avoid over-indulgence in sex. It is dangerous if hypertensive people indulge in sex without an adequate control of blood pressure.
Better, consult your physician.
Yogic relaxation exercises are beneficial. These need to be taken or learnt under the guidance of an expert. Again, assessment of the basic health condition by the physician is necessary before any yogic or other exercises are initiated. Regular yogic and other exercises are essential. It is regularity that pays.
Addictions: Heavy smoking, tobacco chewing and alcohol consumption cause rise in blood pressure. If these are stopped, blood pressure shall tend to fall slowly.
Caffeine: It temporarily raises the blood pressure level. If you take two-three cups of coffee at a time, containing about 200-250 mg. of caffeine, blood pressure may rise to about 10 mm Hg and it usually remains elevated for about two hours or so. There is no significant rise of blood pressure if coffee is taken in routine.
Body weight: There is co-relation between blood pressure and body weight; the former rises significantly with increasing body weight. Hence reduction of weight is advisable. Obesity should not be taken lightly.
Mental stress: Mental stress plays an important role in the causation of psychosomatic ailments, and hypertension is often its manifestation. Some stress is inevitable for the progress of an individual. However, composed calmness should be the way of life.
Who are the best-suited for non-drug measures?
The cases that are detected at the earliest possible, and they have not yet developed any complications, and blood pressure is mildly or moderately raised are the best suited for non-drug measures. If the patient is already on drugs for lowering blood pressure, even then non-drug measures will reduce the intake of drugs. Non-drug measures cover all. Time/patience is the key to this therapy.
The writer is a Patiala-based consulting physician and author of "How to Prevent Common Serious Diseases".