Partying with God, too!
Vimla Patil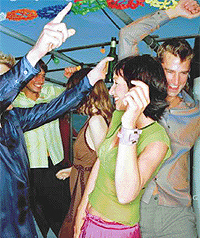 More and more young people — achievers and wannabes — are leaning towards religion and spirituality. From film stars and artists to finance and management whiz kids, all seem to swear by prayer, meditation and religious rituals!
"In this age of stress and cut-throat competition, every young, ambitious person needs to have clear goals," says Vishal Salgia, the scion of a wealthy family, which owns an upmarket store in Mumbai. "And God is one of the most desirable goals! Once the path to Him is set, all paths become crystal clear automatically.
Divine gizmos gain worldwide popularity
The world's most exclusive design houses are offering limited editions of Ganeshas, Lakshmis and other deities at awesome prices to newly religious Hindus and international collectors. They are making collectibles in pure gold, crystal and porcelain.
IT would not be an exaggeration to say that Hinduism and Hindu deities are gaining a new and wider popularity in this age of globalisation. Otherwise, why would internationally famous design houses like Daum, Lladro, Diviniti, Linea, Lalique and Baccarat make Ganesha icons to attract collectors all over the world?
MY VIEW
Marrying reel dreams to real needs
Aruti Nayar
The BJP's decision to pit their own brand of a desi bahu, Smriti Malhotra (alias Tulsi), against the videshi one of the Congress has sent middle class moms-in-law like me into a flurry. It is not the faux deshi bahus like Sonia, (who still manages the pallu so well!) who are a counterpoint to Tulsi.