Wetland plants can boost eco-tourism
Onkar Singh Brraich
Plants of Harike Wetland - A Field Guide
by Dr Satnam Singh Ladhar and Arshinder Kaur.
The Punjab State Council for Science and Technology, Chandigarh. Rs 200 (Rs 100 for individuals, NGOs and students). Pages 152.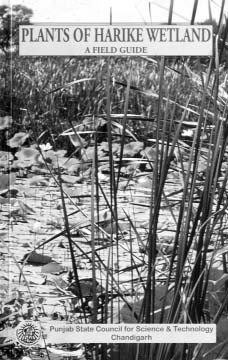 The Harike wetland came into existence in 1952 after the construction of a barrage at the confluence of the Beas and the Sutlej. It covers 41 sq km comprising the marsh area and the lake. Wetlands are among the most important ecosystems. The usages and functions of these were ignored since time immemorial considering as wastelands.
Wetland ecosystems constitute a source of great economic, cultural, scientific and recreational values to human life. They provide us with a wide array of benefits by performing vital functions like replenishment and recharging of ground water, water-quality control by purification, retention and transformation of nutrients, stabilization of local climate, serving as a refuge to a wide variety of fauna and flora, biomass production and export (animals and plants), flood control and storm buffering.
However, in recent years, the environment of the Harike wetland is deteriorating due to over exploitation and misuse, with the result that its rich flora and fauna are fast disappearing. The book under review is a first ever effort made by the authors to document the valuable flora of the Harike Wetland with the aid of the Union Ministry of Environment and Forests. They have compiled descriptions of 174 plants from 84 families, including 35 trees, 19 shrubs, 64 herbs, 15 climbers/twiners, one parasite, 13 grasses and sedges, 11 aquatics, one gymnosperm, three pteridophytes and 22 members of algae.
The book elaborates on economic and ecological values with original photographs of every plant. Efforts have also been made to include the vernacular and common names of the plants to facilitate the rural folk. Rich flora exhibited in Harike wetland is divided into different categories - medicinal, woody, ornamental, economic and ecologically important plants.
Most of the plants at Harike have medicinal value. The fruit of Kigelia pinnata (Latak Pappu) is used to cure rheumatism. The wood of Dilbergia sisso (Tali) is used for making sports equipment, furniture, door panels, carvings and it is excellent for making charcoal also.
The ornamental value of a shrub, Lagerstroemia indica (Saoni), is widely recognised. Beautiful flowers attract a number of butterflies, bees and other insects. A plant with direct economic value is Saccharum bengalense (Kana). The culms and flowering scapes are used for making chiks, moorahs, winnowing trays (chhaj) and leaves are used for rope making.
From ecological point of view, plants helps in maintaining biodiversity of the wetland ecosystem. Typha angustata (Dib) provides birds with nesting and roosting sites, provides the fish with spawning areas and protection and saves the shoreline from erosion. Rhizomes are an important food for wild1ife and plant stands can purify water. Some plants have a high religious and cultural significance for the Hindus and the Buddhists alike. Ficus religiosa (Pipal) is one such plant.
Almost each plant has some economic or ecological importance.
Deforestation threatens this neglected wealth of the Harike wetland. These wild species have the original germplasm and their preservation in the form of small gardens in the wetland area can promote eco-tourism. The book can be of great help to general readers, researchers, naturalists, scientists, ecologists, managers, and policy makers and they can refer to it while making a strategy for conservation and preservation of the wetland.
The simple language used by the authors makes this book user-friendly. Scientific terms have been explained well. If this book is translated into Punjabi, it will be good for the rural folk.