Preserving a theatre tradition
Kunal Khurana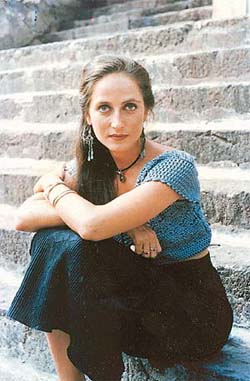 Sanjana Kapoor: Proud inheritor of Prithviraj Kapoor's legacy
Mumbai's famous Prithvi Theatre celebrates its silver jubilee this year. Named after the legendary film and stage doyen Prithviraj Kapoor, it was set up in 1972 by his son and daughter-in-law Shashi and Jennifer Kapoor and is today run by their daughter, Sanjana Kapoor.
The jubilee celebrations took off in Mumbai in the first week of November with a 12-day festival of plays like Voh Bol Uthi Hindustani and Shakuntala Ke Saath Ek Dopahar, Imtiaz Dharker's poetry readings, folk songs from Bengal, Bireshwar Gautam's Kathak recital, a mime show and so on.
"The festival has surpassed what it had set out to do," Sanjana was to say later. "Prithvi has grown over the years and is now, not only a home and an auditorium, but has created a niche for itself as a catalyst in developing creative and productive works."
For most of Mumbai's stage actors, playwrights and directors, Prithvi means much more. It has come to represent an ethos and a tradition no other theatre institution in the city has been able to sustain. In fact, many began their careers here and have retained their umbilical links since.
"I am Prithvi born", says actor -director Om Katare, who has staged nearly 50 plays and over 2,500 shows, beginning with Ek Tha Gadha and Ek Machine Jawani Ki during the days of Jennifer. "She made it a point to watch all our performances and then give a brutally honest feedback about them."
Dinesh Thakur is another Prithvi protege. After 69 plays and 5,332 shows, he still remembers his first play at Prithvi, Baki Itihas (the Brechtian experiment written by Bengali playwright Badal Sircar) 25 years ago, when barely 31 people came to see the show.
"Since then, we have had to work really hard to earn our audience," Thakur narrates. "We were egged on by Jennifer who reminded us often that audiences were important since the theatre had not been built for experimentation. All experiments should be performed in the privacy of laboratories, she would say. If one put up a public show, it should be good enough for everyone to watch."
But the first Prithvi play, everybody remembers was G.P. Deshpande's Udhvastha Dharamshala with Om Puri and Naseeruddin Shah in the leads. It was followed by Bakri, of the left wing Indian People's Theatre Association (IPTA) and Waiting for Godot of the Motley Theatre Group.
Later, under M.S. Sathyu's direction, IPTA put up Safed Kundli, one of Prithvi's landmark plays. "We had 200 artistes playing to an audience of 200," recalls actor Anjan Srivastava. "We broke all rules of theatre with that play. We even performed a show at midnight on audience demand. We had done two shows — at 6 pm and 9 pm — when audiences wanted more. So we put up one more show impromptu."
"That was the kind of excitement Prithvi generated," adds Ratna Pathak Shah of Motley. "From a time when we performed Waiting for Godot to an audience of four or five people, we have to contend with gatecrashers and unending queues at booking counters."
One reason for the popularity of the theatre is the "intimacy of space" the auditorium affords, the low catwalk, perfect acoustics and lighting facilities... "It is the only auditorium in the city which allows us to have a shower between shows," Shah points out.
Actor Benjamin Gilani remembers that in the earlier days a hat used to be passed around the audience after every show and everybody would put in a rupee or two as a token of appreciation. "One day, a 20-rupee note emerged from the hat and we had a grand celebration."
Actor-Director Vikram Kapadia also has fond memories of the theatre: "It is a cosy and intimate space architecturally. That apart, its major strength lies in the acceptance of any creative work with open arms. today, it feels like a home. I feel I know every rib of Prithvi."
Among the younger generation of actors and directors nurtured by Prithvi, names like Shiv Subramaniam (A Slight Ache, The Indian Wants Bronx and Snapshots From An Album) and Atul Kumar (Death Watch, The Blue Mug and Noises Off) are already creating waves nationwide.
"The emotional bonding with Prithvi is so strong that we all feel we have a birthright to the place," says Gilani. "Nobody, but nobody could ever imagine that Prithvi Theatre would reach this far. We all thought it would remain a family indulgence, restricted to Jennifer and Shashi Kapoor". — MF