Reel rewind : 1997
Year of a war epic and laugh riot
M.L. Dhawan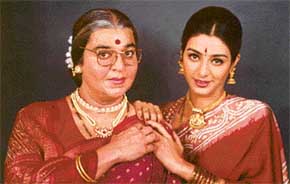 Kamal Haasan (left) was fetching as a matron in Chaachi 420
J.P. Dutta's Border was based on the notes scribbled on the pages of a diary of Dutta's real brother — a fighter pilot who died in the battle of Longewala fought between India and Pakistan in 1991.
This war epic was a star-studded parade featuring Sunny Deol, Jackie Shroff, Sunil Shetty, Akshay Khanna played the lead with authentic performances. The film was shot on the deserts of Bikaner with real Armymen, tanks, jeeps and ammunition, giving it a touch of real war. Sunny Deol stole the thunder as a Sikh commander who inspired an Indian battalion of 50 soldiers to repel the enemy's 2000-strong contingent. The scene, Ode to soldiers was the highlight in which after strapping grenades to their bodies, the Indian soldiers hurled themselves at the enemy's tanks. Annu Malik's Sandese aate hain, Ay jate huye lamho, etc were chartbusters. Javed Akhtar's effort to spotlighting the futility of war with the climax song Mere dushman mere dost won worldwide acclaim.
Yash Chopra's Dil To Pagal Hai was a romantic film conceived out of a simple idea that there is someone for everyone in this world. One has only to look for symbols to recognise him. Pooja (Madhuri Dixit) believed in this dictum and had a feeling that she would meet the man of her dreams for sure. Rahul (Shah Rukh Khan), a trendy choreographer, didn't believe in love. Nisha (Karisma Kapoor), a dancer in his troupe, loved him and hoped he would be hers some day. The film reflected a sociological reality wherein a boy and a girl can share a purely platonic relationship. Madhuri performed her role to perfection although the sympathy of the audience went to Karisma. Uttam Singh's music was a hit romance and Anand Bakshi's Le gayee le gayee, Bholi si soorat, Dholna.., Dil to pagal hai and Ek duje ke vaste all added to the song-fest. Choreography by Shiamak Daver was a hallmark of the film.
Govind Nihalani's Hazar Chaurasi Ki Maa highlighted the theme of rebellion and repression of the Naxalites in Bengal. Sujata Chatterjee (Jaya Bachchan) received a bolt from the blue with a call from the police station to come and identify the mutilated body of her son (No. 1084) lying with other bodies in the morgue. Jaya oozed histrionics while depicting a mother's turmoil and tribulations.
In Subhash Ghai's Pardes, Kishori Lal, an American NRI, assigned his nephew Arjun (Shah Rukh Khan) the task of finding a suitable Indian bride for his American-Indian son Rajiv (Apoorva Agnihotri). Ganga (Mahima Choudhary), daughter of Kishori Lal's old friend was approved as the bride. Ganga got engaged and went to the USA, where problems cropped up on account of their cultural differences. Shravan's score' I love my India, Do dil mil rahe was a chartbuster.
Pamela Rook's Train To Pakistan, original titles in Hindustani-Pbi was based on the novel written by Khushwant Singh. In a village, a young Muslim girl loved a Sikh gangster. Their love was blind to the political machinations that led to partition. The ordeals and vicissitudes of the affected people were portrayed poignantly on the screen by stalwarts like Mohan Agashe, Nirmal Pandey, Rajat Kapoor, Smriti Mishra etc. Pamela Rooks, who played the daughter of a Punjabi Hindu-Sikh couple, displayed remarkable objectivity in the portrayal.
Kamal Hassan's Chaachi 420, inspired by Hollywood blockbuster Mrs Doubtfire was more polished than its Tamil original Avvai Shanminghi. Kamal Haasan was fetching in the role of a woman. The characters did not have to strive at comedy as the situations themselves were so comic and funny. The film marked the comeback of Johnny Walker.
Priyadarshan's Virasat based on Kamal Hassan's Tamil film Thevar Magan revolved around the age-old enmity between two brothers of a Thakur clan in a Rajasthan village. It starred Amrish Puri, Anil Kapoor, Tabu and Pooja Batra. Annu Malik's Dhol bajne laga, Payal chunmun chunmun etc. were in tune with the script.