Director's special
Karan Johar is only two films old. But he has earned the reputation of having the golden touch as both turned into blockbusters. Vickey Lalwani meets up with the young director to find out about his latest release Kal Ho Na Ho.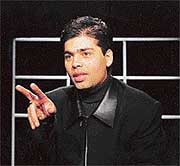 Karan Johar
At 31, Karan Johar is rather young to be one of the most sought after filmmakers of Bollywood. The feel-good Kuch Kuch Hota Hai was all that was needed to kickstart his career as a director. And the multi-starrer Kabhi Khushi Kabhie Gham rocketed him to fame. However, for his third film Kal Ho Naa Ho, Johar has relinquished the directorial reins to his assistant Nikhil Advani.
Excerpts from an interview:
You seem to have relinquished direction in Kal Ho...
What do you mean by saying 'seem to have'? I indeed have.
But there is a buzz that you have directed quite a few big chunks in the movie...
(Interrupts) When Aditya Chopra made Dilwale Dulhaniya Le Jayenge, there were rumours that Yash Chopra had ghost-directed the film. But after DDLJ when Yash Chopra directed Dil To Pagal Hai, tongues wagged that Aditya had directed it.
Is KHNH a reflection of your previous ventures at least?
No. The movie has its own style, narrative and pacing. Nikhil has his own sense of visualisation. In that sense, KHNH will come across as a different movie. It will reflect Nikhil's identity.
What are Kajol and Rani Mukerji doing in the film?
There is no point in lying. The presence of these two actresses is purely out of superstition.
What is KHNH all about?
Set in New York, it is the story of a young girl Naina (Preity Zinta) and the changes her life goes through after she meets Aman (Shah Rukh Khan) and Rohit (Saif Ali Khan). We based the story in New York because we wanted a flavour of New York in the film. We wanted to show how the Indian community lives there.
What does KHNH convey?
Live for the moment. Happiness is for the moment. You never know what might happen tomorrow. That's the theme of our film. The movie exudes the belief that life is God's greatest gift to mankind, which should be celebrated and enjoyed to the hilt.
Is KHNH a remake of Anand?
I don't know who started these rumours. But there is not an iota of truth in it. I have had some people telling me that it is a remake of Safar. But it's neither Anand nor Safar. Both were classics. I would be very happy if it turns out to be a classic like Anand and Safar.
Kareena Kapoor was the first choice for the role which went to Preity?
Yes. Kareena and I differed on the payment issue. Hence, I changed my mind and cast Preity.
Why do you repeat Shah Rukh in every venture of yours?
Shah Rukh is one of the biggest stars of our country. Why wouldn't I cast him if he is willing to work in all of my films? What makes him different in KHNH is his character, his dialogues, speech and manner in which the character develops through those dialogues. He has never played a character like this before.
You seem to have a special equation with Shah Rukh- Kuch Kuch Hota Jhai, Kabhi Khushi Kabhie Gham and now Kal Ho Naa Ho. Right?
Yes. Shah Rukh has always been a supportive presence through any crisis–whether it was an emotional crisis or related to health. We are a single unit family- just my mum, dad and me — and we have very few people around us who we are close to. But when we do get close to someone, we depend on him/her emotionally. My parents look on Shah Rukh as a son. It is not the overt kind of affection where one just says, 'You are like my son.' They genuinely mean it. And Shah Rukh looks up to my father like he would his own. On the other hand, he connects very well with them. He connects with my mum and dad at two different levels. I can walk into his house as if it were my own.
People label you as a 'feel good director'?
It's unfair to label anybody after he has made just two films. Who knows, my next film could be action, mystery or period drama.
You played one of Shah Rukh's friends in Dilwale Dulhaniya Le Jayenge. Didn't you feel tempted to essay a cameo in KHNH?
(Smiles) Not really.
TWF