ULTA-PULTA
Mutual admiration!
Jaspal Bhatti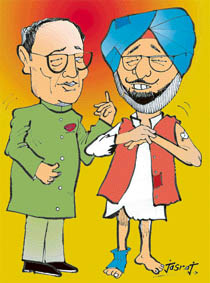 Captain Amarinder Singh deserves a special trophy from the Election Commission as he has set an example by not throwing mud on the Opposition during his campaign in Madhya Pradesh.
Instead of drawing comparisons between Digvijay Singh and some other Chief Ministers of the BJP-ruled states, he compared his own efficiency with Digi Raja. He consoled the voters of Madhya Pradesh by declaring that the roads in Punjab are not better than those in Madhya Pradesh. Probably he has done only an ariel survey of the MP roads. He meant that the ariel view of the roads in both Congress-ruled states is similar.
When someone is ill, we generally boost his morale by saying, "Donít worry, I have also been suffering from the same illness." Similarly, Captain Sahib might have encouraged the MP voters by telling them, "Donít get disheartened by the Rs 36,000 crore debt, we in Punjab have a debt to the tune of Rs 40,000 crore." The statement was meant to console someone passing through a financially rough patch.
Capt Amarinder Singh also pointed out that the dropout rate in schools in Punjab is much higher than in MP. He should have also consoled Digvijay by saying: "You have even better advisers and statisticians than I have !"
I believe Capt Sahib has invented a novel way of canvassing. All the Chief Ministers of Congress-ruled states should go to MP and paint a poor picture of their respective states so that the voters in MP feel elated thinking MP is far ahead of other states.
Next time when Digvijay or other CMs of Congress-ruled states come to Punjab for campaigning, they might have to pay back by showing their states in a poor light in comparison to Punjab.