M A I N N E W S
124 killed in Bhutan operation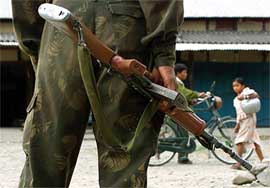 A soldier stands guard as commuters walk past near the border with Bhutan in Sandrup Jongkhar, 80 km south of Guwahati, on Tuesday. Thousands of Indian troops backed by helicopters sealed the border with Bhutan on Tuesday to help the Bhutanese army flush out anti-India guerrillas. — Reuters photo
Siliguri, December 16
At least 90 anti-India militants and 34 Bhutan Army personnel were killed and about 160 persons, including 100 militants, injured in a virtual war between the troops of the Royal Government of Bhutan and rebels in southern Bhutan since yesterday, according to senior officials.
The officials of the Bhutan army and their Indian counterparts said tonight 34 personnel of the Bhutan Army were killed and 60 injured in the exchange of fire with the militants. Among the militants killed during the operation were 12 KLO insurgents, 40 NDFB militants and 38 ULFA ultras, they said.
The Central Headquarters (CHO) of the ULFA had been completely demolished by the Bhutan Army jawans, they said, adding that some massive encounters occurred at Kalikhola, Tintala and Bukka among other places in that country.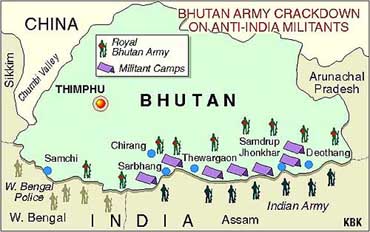 In the Bukka encounter, at least 12 KLO ultras and 34 Bhutan Army personnel were killed, while in Tintala, at least 40 NDFB militants were gunned down and the "709 Battalion" of the ULFA was completely demolished.
Reports from across the border said about 10 camps of the anti-Indian rebels were destroyed during the massive offensive, dubbed "Operation All Clear". About 3000 anti-Indian insurgents belonging to the ULFA, the KLO and the NDFB had been operating from about 30 camps in southern Bhutan.
Reports here said the Indian Army had deployed about 12 battalions along the border to prevent the rebels infiltration. The road link between India and Bhutan had virtually been snapped following the deployment of the Army.
Guwahati: A red alert has been sounded in Assam and borders with Bhutan sealed with the Army moving additional forces on the border. "Bhutan's Royal Army soldiers have seized ULFA's central command headquarters located at Phukatong in Samdrup Jongkhar district bordering Assam yesterday", Bhutanese Foreign Secretary Neten Zangmo told PTI over telephone today. — UNI, PTI