THE TRIBUNE MAGAZINES
On alternate Mondays

On Sundays
On Saturdays
IN PASSING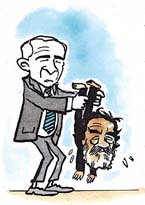 Ah! I have found this weapon of Mass Destruction in a cellar in Tikrit!

by Sandeep Joshi
(Click to enlarge)
Bomb kills 17 in Baghdad
Baghdad, December 17
A bomb by a fuel truck set off a huge fireball in which at least 17 persons were killed in Baghdad today, as violence gripped Iraq in the wake of the capture of Saddam Hussein.

SC seeks Punjab's response on
SYL canal plea
New Delhi, December 17
The Supreme Court today allowed the Punjab Government one more chance to make its stand clear on Haryana's fresh plea, seeking construction of the controversial Satluj Yamuna Link (SYL) canal by the Centre through its agency, the Border Road Organisation, under the supervision of the Central Water Commission.
Air, railway services disrupted
Chandigarh, December 17
Dense fog that enveloped the entire north-west region today claimed four lives and disrupted rail, air and road services.
Workers fix a streetlight during a foggy day in New Delhi. Fog returned to the capital on Wednesday with the minimum temperature around 12°C. — Reuters photo
Spying at Sukhbir's house rocks RS
New Delhi, December 17
Alleged surveillance by personnel of the Punjab Police at residences of two members of the Upper House, including Shiromani Akali Dal leader Sukhbir Singh Badal, rocked the Rajya Sabha today with several BJP and Akali Dal members demanding the matter be referred to the Privileges Committee.


'Nabbed' ASI was checking up on Daler, says SSP


Dissidents may go on Bharat Darshan
Chandigarh, December 17
In an attempt to break the deadlock, a delegation of Punjab Congress MPs called on Mrs Rajinder Kaur Bhattal and Mrs Sukhbans Kaur Bhinder, both leaders of dissident MLAs, at their Punjab Bhavan camp office in New Delhi late this evening. The delegation had come with a set of proposals which dissidents outrightly rejected.
Historic victory for India
December 17, 2003


Bhutan cracks down on Indian insurgents
December 16, 2003


Saddam captured in Tikrit
December 15, 2003

Pakistan says open borders possible
December 14, 2003

AICC panel meets Punjab dissidents
December 13, 2003

Bhattal rules out compromise
December 12, 2003

Amarinder parades 40 MLAs in Delhi
December 11, 2003

Badal, Sukhbir get bail
December 10, 2003

RS members come close to blows
December 9, 2003

5 killed in Andhra communal violence
December 8, 2003

Jogi offered money to MLAs, says BJP
December 7, 2003


SC to hear Badal's petition on Monday
December 6, 2003