THE TRIBUNE MAGAZINES
On alternate Mondays

On Sundays
On Saturdays
IN PASSING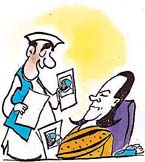 In Haryana two brothers are fighting and in Punjab it's a brother-sister fight.

by Sandeep Joshi
(Click to enlarge)
States can't withdraw POTA cases, says SC
New Delhi, December 18
The Supreme Court today said the state governments had no power to withdraw POTA cases against an accused without the consent of the Centre, giving a major jolt to the Uttar Pradesh Government's efforts to withdraw the cases under the Act against controversial Independent MLA Raghuraj Pratap Singh, alias Raja Bhaiya.
Indian Army may help Bhutan
New Delhi, December 18
United Liberation Front of Assam cadres, who, along with the NDFB and the KLO militants are on the run in the dense forests of Bhutan may face further stern action with the possibility of the Indian Army contingent already based there joining hands with the Royal Bhutan Army to carry out the "cleaning up operations".


Bhutan rejects ULFA ceasefire offer
Militant attacks DC's office, 2 cops killed
Jammu, December 18
Two policemen were killed in an encounter with a terrorist who attacked the office complex of the Deputy Commissioner in Rajouri this morning. The terrorist was later gunned down by the security forces and an AK-47 and some ammunition was recovered. The deceased policemen have been identified as Shoukat Amin and Grewal Singh.


4 fall victim to foggy weather
Chandigarh, December 18
The dense fog which engulfed most parts of Punjab and Haryana claimed four lives and disrupted rail and air traffic in North India, even as people got little respite from the intense chilly weather which has gripped the region for the past week. Four persons, including an NRI woman were killed when a jeep fell into a canal while crossing a narrow bridge near Kurukshetra in Haryana, apparently due to poor visibility.
Amarinder, Bhattal leave it to Sonia
December 18, 2003


Historic victory for India
December 17, 2003


Bhutan cracks down on Indian insurgents
December 16, 2003


Saddam captured in Tikrit
December 15, 2003

Pakistan says open borders possible
December 14, 2003

AICC panel meets Punjab dissidents
December 13, 2003

Bhattal rules out compromise
December 12, 2003

Amarinder parades 40 MLAs in Delhi
December 11, 2003

Badal, Sukhbir get bail
December 10, 2003

RS members come close to blows
December 9, 2003