ARTSCAPE
Discovering the parallels between India and Mexico
Ravi Bhatia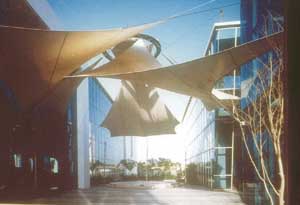 A painting which was exhibited at Apeejay Media Gallery.
Apeejay Media Gallery, the premier forum for new media art in India, in collaboration with the Embassy of Mexico in India, presented 'The Smoked Mirror' - an exhibition of contemporary Mexican New Media Art that has made its presence felt internationally. The exhibition showcased 12 pieces of eight different New Media Artists from Mexico who have used video, video-installation and sound art in their work.
Opening on Saturday, December 13, at the Apeejay Media Gallery, the exhibition was on view till Sunday, December 14, 2003. The opening was preceded by a lecture and walk-through by the renowned Mexican artist and curator for the show, Pablo Vargas Lugo.
The idea for 'The Smoked Mirror' takes from a long tradition of founded and unfounded parallelism drawn between India and Mexico by a number of artists and intellectuals. Some of the work has been produced in India, some other pieces were produced in Mexico specially for the show, still some others will be chosen from the artist's previous production.
H. E. Mr Julio Faesler Carlisle, Ambassador, Embassy of Mexico, said: "Smoked Mirror is the ultimate expression of millenary Mexican culture. It is an update on the Mexico of today of which we are proud to be part of. It, therefore, gives me great pleasure to showcase our Media Art to the lovers of contemporary art in India through Apeejay Media Gallery, who have been responsible for doing pioneering work in this field."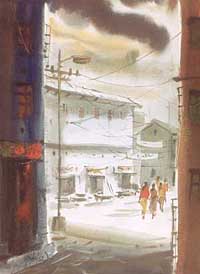 The workmanship of Ajay Kumar Samir.
As Priti Paul, Director, Apeejay Surrendra Group, added: "Apeejay Media Gallery is very pleased to collaborate with the Embassy of Mexico to bring the best of contemporary Mexican Media Art to India. The Apeejay Media Gallery has been specially created as a dedicated facility, to showcase and recognise new media and emerging technology artwork in keeping with the international trend."
Explaining the essence of the exhibition, Pablo Vargas Lugo, Mexican curator for the show, said: "The mirror of the title is not a mirror between countries but between and within individuals; a hazy view of oneself realising no presence is pure, no fantasy totally false, no image whole. But in that other view, a fragment of fabric, a gesture of the hand, a tone of the voice might be so familiar as to be transfixed into a whole new image of yourself."
Birth of planets
Indian Art Circle.com presented an art show at the Habiart Gallery, India Habitat Center, in aid of Speech and Hearing Action Society (SAHAS), which works with hearing impaired children.
Indian Art Circle strives to raise awareness and funds for the special work being done by SAHAS.
SAHAS is encouraging self-reliance in hearing impaired children through dance, drama and art. SAHAS is unique in its initiative as it also works with the parents of these children, so that rehabilitation of the child begins at the most effective learning stage of childhood. Part of the proceeds from the show would be donated to SAHAS.
'Birth of Planets' by Neeta Dogra will be on display till December 20.There will also be a two-day art workshop with special children at the India Habitat Centre, to coincide with the show.
Born in Allahabad, 1952, Neeta Dogra is primarily a self-taught artist, whose first inspiration was watching her mother train at Kala Bhawan, Santiniketan. A zoologist to begin with, Neeta later studied textile Design in Vienna and then Advertising & Exhibition display at Bonn. The early years of her creative career saw her winning gold medals in displays and design of exhibitions. It was finally in Istanbul, Turkey, close to a decade ago, that her long buried desire to create individually, caught up with her. Here, she first exhibited a fine body of collages and has not looked back since then, painting profusely, now with paintbrush for the past four years.
Beyond and belying her brimming-with-energy exterior as a career diplomat's wife and a mother of two boys, she closely guards intense layers of a sensitive and strong core of personal thoughts, experiences and desires, which are her wellspring of painterly imagination. Painting is like meditation to her, connecting her to her inner self and focussing her inner desires. Her work, therefore, reflects a fresh honesty with an everlasting appeal that is always close to the human heart.
A river of art
Gallery Espace presents a solo show of paintings by Jamini Roy from December 19 to January 6.
According to Santo Datta, a well-known name in art circles, "Jamini Roy's total opus is like a broad river, carrying undercurrents of pictorial traditions from distinct cultures, past and present, alien and indigenous. The river has been flowing since the third decade of modernist terminology and elusive art ideals.
The river flows with Parnassian detachment silently through the din of the art market. Its course still runs deep in search of the roots of our indigenous visual culture, murmuring about the folk traditions and pure plastic expressions of the common man's abiding faith in life, unshadowed by angst and unsullied by any illusionistic techniques. Jamini Roy also probed to the aesthetic potential of purely democratic motifs culled from old pictorial traditions that he always treated as something life-enhancing, something essential for a picture to be a picture and remain so."
Vertical forms
The PBC Art Gallery here is exhibiting the paintings of some of the well-known artists. The paintings are unique in their experimental techniques with new ideas subtly brought under the control of mastered devices.
The show is a collection of vertical paintings with themes like landscapes, abstracts and figurines. The exhibition, curated by Ram Nawal Singh, will be on till January 10.
For art's sake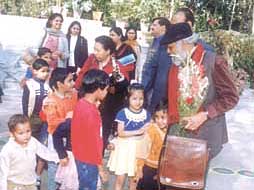 Jatin Das with children at a workshop for co-workers of SOS village.
Eminent artist Jatin Das held a special workshop for the co-workers of SOS village at Greenfield near Delhi. The objective of the workshop was to share with the SOS co-workers the importance of art in the life of a child.
Jatin Das, in his unique style, conveyed methods to make children conscious of the natural environment in which they play, live and grow. He drew some of the common objects of the nature and showed how easy it was to draw & make a child interested in these objects surrounding him. The child would thus become not only observant but also develop his creative faculties according to Mr Das.
The SOS staff expressed their deep appreciation for Das's gesture of spending so much of his valuable time in the cause of SOS children.