Who bothers about mental health care?
by R.Srinivasa Murthy and N.N Wig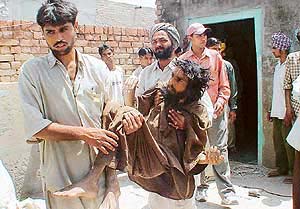 The country's resources for mental health care are far from adequate. The situation is pitiable particularly in Punjab, Haryana, Himachal Pradesh and Chandigarh. This is especially true of the public sector, with about one or two psychiatrists for one million people. The position in developed countries is at least 100 psychiatrists per million population.
There is an urgent need for an adequate number of mental health professionals in all states. There should be at least one full team of mental health professionals (psychiatrist, clinical psychologist, psychiatric social worker, psychiatric nurse) in each district. To have fully trained professionals in all of these categories will, however, take a long time. In order to achieve short-time results, alternatives have to be thought of. One such alternative is training groups of 6-10 medical officers for a short duration (about three months) and post them to work in the district hospitals. The current postgraduate training centres at Chandigarh, Patiala, Rohtak, Amritsar, etc, should take up such training programmes immediately with the support of the state governments. In about two years, all the districts could have at least one or two "psychiatrically trained doctors ".
The urgency for training clinical psychologists, psychiatric social workers and psychiatric nurses is even more acute. A similar programme needs to be taken up by providing six months' training in appropriate clinical skills so that they can join the mental health team. It is expected that these short-term trained persons, in course of time, can take up further postgraduate training to become fully trained professionals. Simultaneously the undergraduate curriculum of doctors, psychologist, social workers and nurses should be revised to prepare them to take up basic mental health care after graduation. The fuller utilisation of family members for informal care by training them in caring skills is an another measure which can result in an increase of human resources.
It is necessary to carry out public mental health education campaigns on a regular and continuous basis. The public has to understand that mental disorders are like any other illness; these are treatable; the mentally ill are not dangerous; all mental illnesses are not in heritable; families are important for the recovery of mentally ill persons; mentally ill can do work and take responsibility like any other person; recovered persons can marry and lead full normal lives, punishment is not the right approach to care for the ill person, and all individuals can acquire personal skills towards better mental health. Experience shows that the provision of effective services is probably the best method of changing the opinion of the general public. The media can play an important role in this regard.
The improvement of mental health of children and prevention of childhood emotional problems is a very important part of any mental health programme. This can partly be done by teaching the school children the essentials of mental health and giving training in life skills. Life skills are living skills or abilities for adaptive and positive behaviour that enable individuals to deal effectively with demands and challenges of everyday life. In India, this activity has been taken up as a measure at a number of centres.
Total mental health care requires a number of community-level services in addition to the routine things. The most important is the rehabilitation service. Due to the lack of such services, a number of mentally ill persons develop poor social functioning and a serious handicap in life. These persons need opportunities for rebuilding their lives in protected settings. This can be done through day-care centres where sick individuals spend the day in the company of other patients and professionals, relearning the lost social skills. There could also be the half-way homes where patients live for a few months and acquire social and vocational skills for future life. For some, who do not have families to care for or those who need constant support and supervision, there should be long-stay homes. To organise such facilities in the community, voluntary organisations can be a great help. In South and West India, there are many voluntary groups who are doing excellent work in the field of mental health. Unfortunately, the movement to run voluntary organisations for mental health is still very poor in North India. There are many other activities that voluntary organisations can do in the area of mental health care like suicide prevention, counselling for drug dependence, forming self-help groups of families, public education, advocacy to fight stigma, etc. A total mental health programme should create a space and support for voluntary organisations.
Today, the challenge of mental health care is not one of discovering new knowledge, but primarily the application of the available knowledge in a humane and caring way. The state and civil society have vital roles to play in this respect.
— Dr Murthy is Professor of Psychiatry, National Institute of Mental Health & Neurosciences, Bangalore. Dr Wig, a former Professor and Head, Department of Psychiatry, PGI, Chandigarh, is currently an Emeritus Professor at the PGI.