Hazards of ultraviolet radiation
Neeraj Gupta
WE know that the sun is a source of light and energy. The rays of light reach us in the form of electromagnetic radiations and are known as gamma rays, x-rays, ultraviolet rays, visible rays, infrared rays, microwaves, radiowaves.
Or all the above rays the rays of light that have affected our plant and life on the earth in a dangerous way are ultraviolet rays.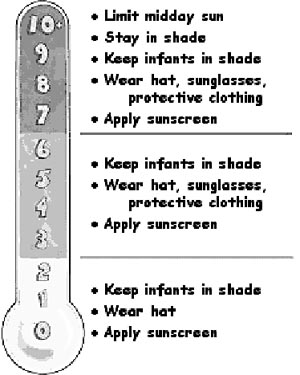 Ultraviolet (uv) radiation is undetectable by the human eye, although when it falls on certain materials it may cause them to fluoresce — i.e., emit electromagnetic radiation of lower energy, such as visible light. Many insects, however, are able to see ultraviolet radiation. Ultraviolet radiation is produced by high-temperature surfaces, such as the sun, in a continuous spectrum and by atomic excitation in a gaseous discharge tube as a discrete spectrum of wavelengths. Most of the ultraviolet radiation in sunlight is absorbed by oxygen in the earth's atmosphere, which forms the ozone layer of the lower stratosphere. Of the ultraviolet radiation that does reach the earth's surface, almost 99 per cent is uva radiation. When the ozone layer becomes thin, more uvb radiation reaches the earth's surface and may have hazardous effects on organisms.
We are aware of effects of sun exposure like sunburn, permanent skim damage, and damage of organic molecules by uv radiations.
Sun energy output is 386 billion megawatt! In spite of having small wavelength (billionth of metre), these uv radiations contain high amount of energy which can even penetrate our flesh and change structure of skin cells.
Uv radiations can be broken into three categories.
Uva(315-400nm),
Uvb(290-315nm,
Uvc (100-290),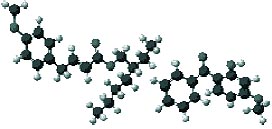 2-ethyl hexyl-p-methoxy cinnamate (left) and oxybenzone
Uvc radiations are considered to be most dangerous. Fortunately danger is reduced by its absorption by upper atmospheric ozone layer. Uva radiations are responsible for alteration of connective tissue of dermis. Uvb radiations are responsible for sunburn. Tanning occurs when light strikes our skin, malanocytes activate to produce melanin. Energy of uvb with wavelength of 300 nm is 6.63x10-19.j which is sufficient to break carbon-carbon, carbon-hydrogen, carbon-sulphur, carbon-nitrogen bonds of proteins.
However, various cosmetic manufacturer produce sunscreens to protect us from uva and uvb radiations. Sunscreens are levelled by "sun protection factor" (spf). Suncream contain 2-ethyl hexyl-p-methoxy cinnamate and oxybenzone which absorb uv radiations thereby protecting it from reaching the skin.
Uv radiations are more intense between 10 am and 4 pm Uv index diagram can help us.
Limit midday sun
Stay in shade
Keep infants in shade
Wear hat, sunglasses, protective clothing
Apply sunscreen
Keep infants in shade
Wear hat, sunglasses, protective clothing
Apply sunscreen
Keep infants in shade
Wear hat
Apply sunscreen
Researches have proved that uvb can harm and cause skin caner even by penetrating through shade of tree along with field or street under the open sky. As such it is advised that one should not think that he is safe from uvb radiations by taking refuge under any shade under the open sky.
We are aware of effects of sun rays on skin but unaware of its impacts on eyes. Uva and uvb can affect our vision. One of the unique characteristics of uv is that it cannot pass through glass. Hence eyes can be protected from harmful effects of uv by wearing sunglasses.
The writer teaches chemistry at DAV College, Amritsar