Movers, shakers & sizzlers
SOME people are born to make headlines, others have headlines thrust on them. So it was in the year 2003. It too had its share of movers and shakers — people who were in the spotlight, by choice or chance, for reasons good, bad and bold. Here is a random, light-hearted look at some scene-stealers and moments that defined the year, writes Chetna Keer Banerjee.
Boldest splash of the year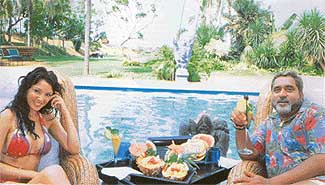 Living life king-size: Business baron-turned-politician Vijay Mallya with an international model at his beach-side villa in Goa
THE czar of flamboyance, beer baron Vijay Mallya sure can think of ingenous ways to grab attention. Whether it's dressing up his villas as outlandish Moroccan kasbahs or it's flying his guests in Boeing 727s for a beach parties to Goa, this tycoon has a yen for stunning people. This year, he made his shock value swell like a tide by splashing a slice of life on the beach on print. In what may well have been the first exclusive swimwear calendar of India, Kingfisher showcased some of the hottest models—-Katrina Kaif, Ujjwala Raut, Yana Gupta, etc—-in designer bikinis. Instead of sizzling on ramp, these catwalk queens were made to line up for a skin parade on the beaches of Mauritius.
By bringing this bit of eye candy to the ubiquitous calendar, Mallya kickstarted the year with a splash. Little surprise that he won MTV Lycra's most stylish businessman of the year award too.
Most musical jailbird

Pop icon Daler Mehndi didn't quite make music but faced the music this year for his alleged involvement in things as unmusical as an immigration racket.
His image and reputation as cultural ambassador took a severe beating when he was accused of transporting, not a slice of Punjabiyat, but kabootars to foreign shores.
With his name figuring in a police complaint along with his brother Shamsher Singh, Daler's career struck a discordant note and his life was no longer a song.
As the long arms of law reached out for him, the bhangra king who'd made millions gyrate to his foot-tapping numbers was seen dancing to the tunes of the police.
The hounded Tunak tunak star, who went underground before being arrested, ended up singing a different tune. The sight of the men in khakee at his door may have made him change his lines to Mein darda rab rab karda!
Jodi No 1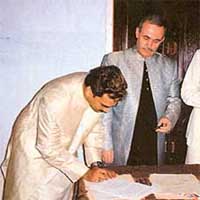 Wendell Rodricks & Jerome Marrel
The year saw an alliance of another kind being legalized in the land of beaches and carnivals—Goa. Leading dress designer Wendell Rodricks and Jerome Marrel put the official stamp on their relationship by signing a PACS agreement in the presence of the French Consul.
Perhaps the first legal agreement of its kind in India, it put the seal on 20 years of their togetherness.
As champagne corks popped, glasses clinked and music played on, it was time for a party with a difference.
A select group of friends and relatives—-prominent among them being Remo Fernandes, Dilip and Shobhaa De, Malaika Arora and Ujjwala Raut—-shook a leg into the wee hours and wished the couple a lifetime of companionship.
The spirits flowed freely and the mood was upbeat as an act of faith got translated into an act of law.
Maiden with narrowest margins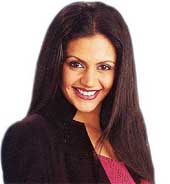 Mandira Bedi
For all those who thought that spaghettis and noodles belonged only to the Maggi commercials or the soaps on television, Mandira Bedi gave some food for thought. As hostess of Sony's World Cup special show Extraaa Innings, she changed the look of sports analyses on Indian television. Her noodle straps became the talking point of a show that was meant to talk about sports. The lady brought to the talk of the gentleman's game that extraaa bit of oomph. While talking of cricketers' slim chances, she brought to the game her own narrow margins. Of the sari blouses, that is!
This novice sports presenter may not have scored too many points before the badshahs of cricket commentary but her itsy-bitsy tops clearly had cricket fans bowled over. Never mind the bloomers, her disarming smile and plunging neckline earned enough eyeballs to make up for any lack of 'depth' that detractors accused her of. Crease (on the critics' foreheads) notwithstanding, the dame was a winner as a hostess of the game.
Most well-Taylor(ed) role
The man who has become a legend in his lifetime and a brand icon of the masses as well as the classes formed another memorable bond this year. Looking for a face to replace Pierce 'James Bond' Brosnan, Reid & Taylor certainly decided to 'bond with the best'. In India, that is. Amitabh Bachchan thus became the new brand ambassador for this luxury suiting.
For the man though, this was merely another feather in his cap. He has already been lending his persona and charisma to a host of commercials, including Nerolac, Dabur Chyawanprash, ICICI, to name a few. Another brand to which he lent his voice and charisma this year was Sahara City Homes, wherein his better half too made an appearance. What with him being also getting honorary citizenship of an African nation, he strengthened his 'bond with the rest (of the world, that is)
Prickliest thorn in the flesh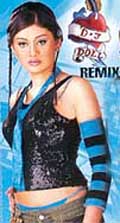 Shefali 'Kaanta Laga' Zariwala
If noodle straps earned Mandira Bedi those coveted 15 minutes of fame, peek-a-boo thongs, blue ones at that, brought Shefali Zariwala celebrityhood too. For all the wrong reasons though.
This student-turned-model shot into limelight overnight with her seductive jhatkas in the remix music video Kaanta Laga.
The blue thongs peeping from behind her low-waisted jeans and the tattoo on her bosom in the new album not only made her a voyeur's delight but also the 'item girl' of the small screen. With her come-hither looks, this sexy siren became the Ishaa Koppikar or Malaika Arora of the remix music.
She may have wowed the hip crowd but her pelvic thrusts certainly didn't go down well with many women's and political groups.
The Kaanta Laga number particularly became a thorn in the flesh of the I & B Minister, who faced immense public pressure to clamp a ban on this and other obscene remix albums.
Birthday 'girl' of the year
For those who thought that this honour went to melody queen Lata Mangeshkar who turned 75 or the diamond-dripping 'material girl' of UP politics Mayawati, think again. The birthday bash that eclipsed all other celebrations, at least in terms of sheer attendance, was a three-day event that unfolded in far away Kochi. And the person who took the cake (and the icing) was India's leading godwoman Mata Amritanandamayi, Amma in short. This cult figure turned 50 this year.
People from all corners of the globe flocked to Kerala in what became the most visible and universally attended birthday party of the year. This southern town turned into a global village as a Dutch filmmaker, US Congressman, Hollywood actors and others descended upon it. Even the list of domestic participants read like a Who's Who of politics, industry and high society. And why not, when the formidable list of her followers includes heavyweights L.K. Advani, Mukesh Ambani, Chief Ministers A.K. Antony and S.M. Krishna and the like.
And what return gift did the guests get? You guessed it. A hug from the 'hugging saint'!!!
The unexpected....Miracle of Destiny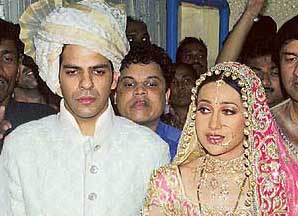 Sunjay and Karisma Kapur
If this is not destiny, what is? From being a baraati at Mere Yaar Ki Shaadi`85 to becoming the sequel to his Biwi No 1, Karisma Kapoor couldn't have switched roles if it hadn't been for some divine intervention.
When she danced at Delhi businessman Sunjay Kapur's first wedding little did Karisma know that one day he would bring his baraat to her home.
Tipped a couple of months back to become the Bachchan bahu, Karisma was meant to keep another tryst with destiny.
Fate had willed Sanjay and not Abhishek Bachchan to be her Raja Babu and thus her engagement to the latter broke up early this year.
As if this heart-breaking start to the year was not enough, her mega-budget soap on Sahara Karishma—The Miracle of Destiny first ran into legal trouble and that over, failed to work wonders on the small screen.
Maybe not on-screen, life at least brought a Miracle of Destiny her way off-screen.