TELEVISION
Communicating with the dead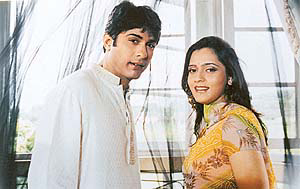 Tum Bin Jaoon Kahan: Probing life after death
SOMEBODY stop me! Thatís what Aroona Irani should be saying. Even before the kudos for the new-look Des Mein Nikala Hoga Chaand have died down, sheís started getting rave reviews for her new serial Tum Bin Jaoon Kahan, Zee TV, Mondays at 9.30 p.m.
This is not the run-of-the-mill reincarnation stuff that viewers have been watching on various channels with annoying repetition. Inspired by a book titled November Rain, the serial is based on the subject of the life after death.
The story revolves around Aryan (Vikas Bhalla) who loses his girlfriend Muskaan (Jividha) in a road mishap. Blaming himself for her death, he goes into a state of depression and tries all means to get in touch with her but fails.
Then he meets a guru who teaches him how to communicate with the dead through a planchette... a board that sends messages under spiritual guidance. Thatís when the action starts which gets spookier as the serial proceeds.
The channel claims that with Tum Bin Jaoon Kahan its viewership has gone up by 20 per cent. Which is one big jump considering the overall viewership of Zee TV.
Nari shakti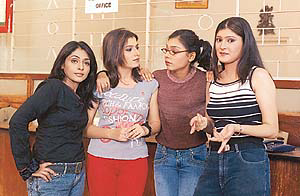 Scene from Agneepath: Women of destiny
What happens when five girls with a troubled past become the best of friends? The result is a passionate struggle for identity and self-expression.
Agneepath, every Monday at 9 p.m., on the national network revolves around the tale of Saloni, Sargam, Tanya, Mehak and Lara who have been brought up under trying circumstances. One is an illegitimate child, the other is from a broken family, the third is fatherless, the fourth, daughter of an educationist and the fifth a rebel without a cause.
Parental discord, family estrangement and other problems have not prepared these girls to deal with the world. But once they come together these fiery young ladies are determined to avenge their fate.
They decide to face the world with confidence and determination. Will they succeed? The answer is not difficult to guess considering this is a serial by Raman Kumar and Vinta Nanda. And there are not too many surprises in their long-drawn sagas.
Mohan Joshi Haazir Hai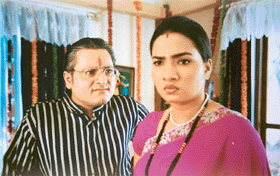 Joshi (left) in Kehta Hai Dil: Classy villain
Many a television set has sizzled with the heat of his performance and many a villain has accepted defeat in front of the Mogambo of the small screen. Mohan Joshi is Star TVís bad man of the year.
Recently honoured with the Indian Television Award for the Best Screen Villain, many feel that Mohan Joshi has redefined the art of villainy with his portrayal of Meher; the anti-hero with a comic touch in Kehta Hai Dil.
"I am overjoyed that people have appreciated my work. This award has confirmed my belief that crooks and brigands are very popular if portrayed a bit differently," says Joshi. The character, though tainted, has an unmistakable tinge of humour in it. Joshi assures the audience non-stop bouts of laughter in the coming episodes.
A small screen and theatre veteran, Joshi has done a number of Gujarati and Hindi plays like Gandhi v/s Gandhi, Rangeela and Chanakya. He idolises Om Puri, Paresh Rawal and Nasseruddin Shah and believes that the trick to succeeding in a negative performance is to deliver dark humour with perfect timing.
And thatís not all. Joshi now plans to set the big screen on fire with his villainy. With Madhur Bhandarkarís Aan and Mehul Kumarís Jaago in the pipeline Joshi can only say one thing these days "Meher khush hua".
Discovering the Big ĎBí
Bollywoodís best-loved son dies on screen; Sholay ends on a poignant note and the audience is left wanting more.
For the first time Amitabh Bachchan reveals how close he came to changing the ending of this blockbuster in On Screen, December 24 at 11 p.m., on the Discovery Channel and what prevented him from doing so.
Over quarter of a century after Sholay, Bachchan is still God and his star appeal has gone up many times. Today, at 60, heís more than just a celebrity or a superhero; he is a glorious icon of the cinematic revolution in India.
In 2000, he beat Sir Lawrence Olivier, Sir alec Guinness and Charlie Chaplin in a public vote for the BBC Star of the Millennium and he continues to live upto his reputation despite of late not having too many hits to his name.
Share some private moments with the legend in this show which is guaranteed to pin you down if you are a Bachchan fan.
One for the road
Want to buy a car but donít know which one to chose from? Want to maintain your car but donít know the best way to do so? When every vehicle seems big, bright and sleek ó how do you know which is the best and which one to avoid?
Get tuned to cars with Wheels every Saturday on BBC World. Presenters Niret Alva and Nawaz Sandhu testdrive and review the latest cars being launched in the Indian market. Exclusive scoops, previews and reviews of cars and bikes, maintenance tips and fascinating feature stories ó Wheels has them all.
Now, for the first time on Sunday, December 21 at 12 noon, the show presents awards for cars and bikes that the viewers have selected.
A must watch for automobile owners, car and bike enthusiasts and prospective buyers. Wheels gives a complete run down on whatís on offer in the Indian market. So for all those scouring the auto market for the best buy in terms of performance, comfort and value for money, this is the show to watch.
Global music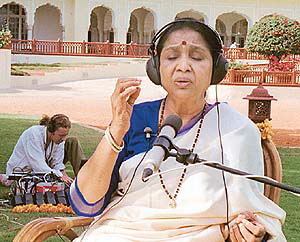 Making of 1 Giant Leap: Rhythms
Go behind-the-scenes as stars of rock, pop and hip-hop unite in an ambitious audiovisual journey that spans time zones, languages and cultures to bring to life the rhythm of the world.
In Christmas SpecialóMaking Of 1 Giant Leap, December 25 at 8 p.m. on the National Geographic Channel, filmmakers Jamie Catto and Duncan Bridgman, travel over six months across 25 countries in Africa, Southeast Asia, Australia, Europe and North America, meet up with artists, storytellers, shopkeepers, scientists, authors, cabdrivers and philosophers.
The result is a diverse multimedia experience that fuses spoken word, sounds, rhythms and images from around the globe on a Grammy nominated, critically acclaimed CD and DVD.
The show features the first lady of Indian pop, Asha Bhonsle as also such heavyweights as Robbie Williams, Neneh Cherry, Tom Robbins, Kurt Vonnegut, Dennis Hopper, Baaba and Maxi Jazz. Sit back and enjoy this 130 minutes of extraordinary musical footage from every continent of the world.
ó Mukesh Khosla
This feature was published on December 21, 2003