Bio-fertilisers for another revolution
Amarjit Thind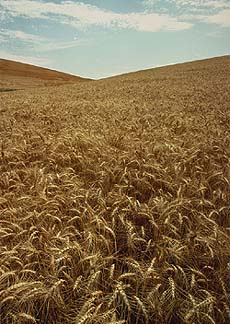 Pushing back the horizon
WITH the advent of high-yielding, input-intensive crop varieties, the entire agriculture production system in Punjab got revolutionised. But the land has not been able to sustain this burden. The intensive cropping system has given birth to several ecological problems, including nutrient imbalance.
According to Dr S. C. Jain, a former head of the Department of Food Science and Technology, Punjab Agriculture University (PAU), intensive agriculture has caused an alarming decline in crop yields and water resources and some parts of the state are close to becoming barren. Productivity of rice and wheat has approached a plateau and farm incomes are insufficient for a decent living.
"These problems lead to excessive use of chemical fertilisers and pesticides. But this can be prevented. These chemicals can be replaced, at least partially if not fully, with bio inputs like bio-fertilisers and bio-pesticides, which are eco-friendly. This will not only provide a solution to the current problems, but also provide sustainability to agriculture in the years to come," he adds.
Elaborating on the advantages of bio-fertilisers, Mr Rajinder Goel, Chairman-cum-Managing Director, Hindustan Insecticides Limited (HIL), a Government of India enterprise, says, "Bio-fertilisers help in maximising the yield, enhance plant growth by release of vitamins, auxins and hormones, hasten seed germination, flowering and maturity in crops, reduce the dependence on chemical fertilisers over a period, control soil-borne microbial crop diseases and improve physical, chemical and biological properties of the soil. These bio-fertilisers also do not cause pollution and do not have any harmful effect on soil fertility and plant growth. These are required in small quantities."
HIL has recently introduced its varieties of bio-fertilisers — Premium Azospi, Premium Azoto Plus and Premium Phosphofix—for Punjab farmers. In experiments conducted by scientists and in trials organised on farmers' fields in the paddy-wheat cropping system, Premium Azospi and Premium Azotoplus increased the yield of wheat by 8-10 per cent, meaning an additional income of Rs 1000-1500 per acre. In addition, 14 per cent increase in straw was also recorded. In another experiment, the same group of scientists found that Premium Phosphofix alone increased the grain yield of wheat by about 15 per cent.
According to Dr P.S. Prasad, CEO, International Panacea Limited (IPL), "While the aim of the Green Revolution was noble, the effects on the soil have been disastrous. Farmers are now compelled to use more chemical fertilisers and other inputs to achieve the earlier level of production. This has resulted in serious environmental imbalances."
According to the available data, Punjab, having just 2.98 per cent of the cultivated area and 4.2 per cent of the cropped area, accounts for almost 10 per cent of the total fertiliser consumption in the country. There has been a meteoric rise in the consumption of fertilisers from 5,000 tonnes (1.06 kg per hectare) in 1960-61 to 12,63,000 tonnes (9,164 kg per hectare) in 1995-96 to meet the high nutrient requirements of the present production pattern.
"Today India is awaiting a second Green Revolution. Punjab and Haryana farmers are trying to further increase the yield of wheat. But they are unable to do so due to two reasons. First, increase in the dose of chemical fertilisers may not result in proportionate increase in the yield, second, higher doses of chemical fertilisers may result in phyto-toxicity. But it is certain that the high-yielding varieties available at present have some unrealised potential yet to be exploited. This can be achieved only by using bio-fertilisers," says Dr Prasad.