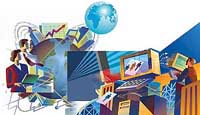 2003! India can look back with glee
Peeyush Agnihotri
ANTI-outsourcing din, glut of spam, wave of lay-offs, slew of virus attacks, series of product launches and amidst this, the resurgence of India as a major IT hotspot — that was the year 2003. Globally, the IT juggernaut lumbered ahead. New products were launched and Microsoft, the software daddy, promised Longhorn, the new operating system whose beta version is to hit the market in the later half of the next year even as the open-source Linux loomed menacingly at Microsoft's gates and windows.
Anti-outsourcing carols!
Prasun Sonwalkar
PROTESTS over the export of British jobs to India took a unique form — Christmas carols. Britain plunged into the holiday season a few days ago but not everyone was looking forward to the Christmas spirit. In the busy financial district, trade union representatives dressed up as Santa, clutched plastic cups of mulled wine and sang a choir. But it was a choir with a cause. The representatives were sounding alarm sirens, not jingle festive bells.

IT WIT
by Sandeep Joshi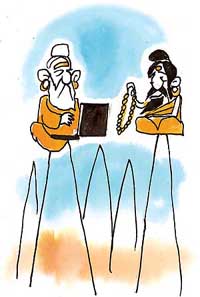 Have you uploaded 2004 predictions for your world wide web of followers?

Software fundamentals
Pratibha Sharma
COMPUTER hardware — the machine and its components — is designed to be as flexible as possible. By using computer programs, called software, you transform this hardware into a tool for a specific purpose. No matter which program is used, the machine itself performs only four basic operations — input, processing, output and storage. Software are of two types: system software and application software.


The story of a kernel gone corrupt
Jasjot Singh Narula
THE next time you get the message on the computer that reads: "The program has performed an illegal operation and will be shut down. An Invalid Page Fault (IPF) error has occurred in Kernel32.dll press Ctrl + Alt + Del to restart, " don't blame Gates but try to get into the why of it.

Wanted! Data software
S.C. Dhall
Changing competitive environment in banking industry has forced the Indian banks to go in for optimum use of public infrastructure (the Internet), industry-specific infrastructure (the Infinet) and bank-specific communication network (create through VSAT).
Banks gear up to tackle 'phishing'
BANKING officials and computer security experts have predicted the wave of cyber scams targeting the financial services sector will soar in 2004 as the industry braces for a new onslaught of fraud schemes. The gloomy prediction comes amid a string of e-mail and Website spoofing scams preying on banking customers.

Tamil Nadu draws up consortium approach
Suchitra Srinivas
IT slowdown that compelled global corporations to cut costs and shift operations to India has heated up competition among South Indian states for a larger share of the outsourcing pie, with Tamil Nadu banking on the consortium approach to win the race.
Drive makers say it's a Happy new year
J. Tan & M. Anantharaman
THERE'S a newly popular stocking stuffer around this new year—gadgets equipped with tiny hard disk drives. From video cameras to portable music players, consumer electronics manufacturers are increasingly incorporating high-capacity hard disks into their products to store video and music.
Robot that jogs. It's a Sony!
Edwina Gibbs
HE may not be able to give you a run for your money but one quick step for Sony Corp's Qrio humanoid robot is one big step for robots in general. Electronics and entertainment giant Sony said it had developed the world's first running — okay, jogging — robot.

Tackling intruders
Jaspreet Bedi
THE intrusion in the cyber world is a serious problem. An intruder is a person who wants to make use of his/her intellect in a negative sense and illegally enters the codes or uses it maliciously. Intrusion clearly is undesirable. Hence appropriate defence mechanism is a must.