BJP to consult allies on early poll: Advani
S. Iyer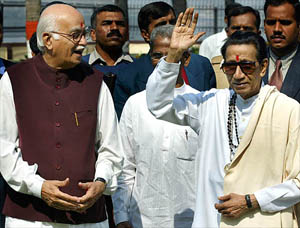 Deputy Prime Minister Lal Krishan Advani watches as Bal Thackeray (right) Shiv Sena chief, gestures after a press conference in Mumbai on Tuesday. — Reuters photo
Mumbai, December 30
Deputy Prime Minister L. K. Advani today said that the BJP was in favour of early Lok Sabha elections and that it would consult with its alliance partners in the National Democratic Alliance government before taking a final decision on the issue.
Mr Advani, who had a meeting with Shiv Sena chief Bal Thackeray on the matter, said early elections would help the prospects of all the constituents of the NDA. "By and large it is correct to state that the results of the recent Assembly elections have had their effect beyond these states. The economic situation has created a feel-good factor," Mr Advani told reporters after a meeting with Shiv Sena chief Thackeray.
Mr Thackeray himself told reporters after the meeting that he agreed with the views of Mr Advani. "Mr Advani's views are my views," Mr Thackeray said.
The meeting of the two leaders had the BJP's poll strategist Pramod Mahajan in attendance. Mr Mahajan is said to have made a presentation to Mr Thackeray in a bid to persuade him about the need for early poll.
However, observers here say Thackeray was already convinced after the BJP's victory in the recent Assembly poll held in Rajasthan, Chhattisgarh and Madhya Pradesh. "We can win 40 of the 48 parliamentary seats," Shiv Sena MP Sanjay Nirupam told reporters before Mr Advani's meeting with Thackeray.
According to Mr Advani, the BJP will consult all its allies before the executive committee of the BJP meets in Hyderabad on January 11 and 12. He added that Prime Minister Atal Bihari Vajpayee was being apprised of his talks with the BJP's alliance partners.