HOROSCOPE
In Science & Technology Tribune today
THE TRIBUNE MAGAZINES
On alternate Mondays

On Sundays

On Saturdays

---
The Tribune wishes its readers a very happy New Year
New-Year-Eve smiles in Ahmedabad on Wednesday.
— Reuters

Fireworks illuminate the Harbour bridge in Sydney on the eve of New Year. — AFP

---
Petrol, diesel to cost more
New Delhi, December 31
The new year will witness a record high in prices of petrol and diesel as consumers will have to shell out Re 1 to Rs 1.20 more for a litre of the two fuels from midnight today.

FLASHBACK '03 — Science and Technology
Equipped to launch satellites
New Delhi, December 31
Having already achieved self-sufficiency in the fabrication of satellites, India is now nearing full self-reliance in launching capabilities with the new Science and Technology Policy-2003 providing a boost to scientific growth and research.
Jasraj breaks down in mother tongue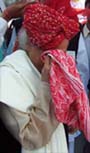 Fatehabad, December 31
Pandit Jasraj, renowned exponent of Indian classical music and recipient of the Padma Shree award, was overcome with nostalgia, when he visited his native village, Pilimandori, in this district yesterday.

Pandit Jasraj prepares to speak to the people of his native village, Pilimandori, near Fatehabad, on Tuesday.

Capt shifts Pandey
December 31, 2003

Pak not to raise Kashmir issue
December 30, 2003
India to call for joint SAARC plan on terror
December 29, 2003
Indian security cover for Vajpayee in Pak
December 28, 2003

Musharraf's attackers identified
December 27, 2003

Musharraf escapes assassination bid
December 26, 2003

EC censures Amarinder, Ajit Jogi
December 25, 2003

Stop terror for talks, PM tells Pakistan
December 24, 2003

Ex-PM Rao, Chandraswami let off in cheating case
December 23, 2003

CBI registers case against Judeo, three others
December 22, 2003

DMK pulls out of NDA government
December 21, 2003

Samjhauta to resume from January 15
December 20, 2003

Pak talks of dropping 1948 UN resolution
December 19, 2003