In Career Guide today
THE TRIBUNE MAGAZINES
On alternate Mondays

On Sundays

On Saturdays

IN PASSING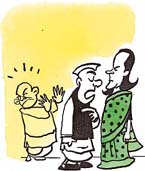 He doesn't want to join us. He has decided to form his own front.

by Sandeep Joshi
(Click to enlarge)
Sonia calls up Maya


New Delhi, January 1
Congress President Sonia Gandhi called up Bahujan Samaj Party (BSP) Mayawati late Wednesday night, ostensibly to greet her for the New Year but essentially to build bridges with her with an eye on the Lok Sabha poll.


Maya open to Sonia as PM

Editorial: Roadblocks for Congress
| | |
| --- | --- |
| | Prime Minister Atal Bihari Vajpayee presents a bouquet to President A.P.J. Abdul Kalam to mark the New Year at Rashtrapati Bhavan in New Delhi on Thursday. — PTI |

Advani talks to Jayalalithaa
Chennai, January 1
In the midst of political churnings following DMK's withdrawal from the NDA, Deputy Prime Minister L.K. Advani today spoke to Tamil Nadu Chief Minister Jayalalithaa over telephone.
Enough evidence against Telgi,
says SIT official
New Delhi, January 1
The kingpin of the multi-crore stamp paper racket Abdul Kareem Telgi is now trying to divert the attention of the investigators as he had allegedly revealed some crucial information recently when he was subjected to the scientific interrogation, including brain fingerprinting and nacro analysis, in Bangalore.
Jagmeet plays peacemaker
Asks Congressmen to assemble at Maghi Mela
Chandigarh, January 1
Holding the Central Bureau of Investigation (CBI) as premier investigation agency of the country, Mr Jagmeet Singh Brar, MP, and a General Secretary of the All-India Congress Committee (AICC), says the credibility of this agency, which has won the faith and trust of people, cannot be doubted.
Foreign Secys struggle to iron out differences
January 1, 2004


Capt shifts Pandey
December 31, 2003

Pak not to raise Kashmir issue
December 30, 2003
India to call for joint SAARC plan on terror
December 29, 2003
Indian security cover for Vajpayee in Pak
December 28, 2003

Musharraf's attackers identified
December 27, 2003

Musharraf escapes assassination bid
December 26, 2003

EC censures Amarinder, Ajit Jogi
December 25, 2003

Stop terror for talks, PM tells Pakistan
December 24, 2003

Ex-PM Rao, Chandraswami let off in cheating case
December 23, 2003

CBI registers case against Judeo, three others
December 22, 2003